Pink Tornado Left
5.9+, Trad, 1000 ft (303 m), 8 pitches, Grade III,
Avg: 2.7 from 15 votes
FA: Don Gieseck, Geoff Conley 1975
Nevada > Southern Nevada > Red Rock > 13-Mt Wilson > Horseshoe Wall
Access Issue:
Red Rock RAIN AND WET ROCK: The sandstone is fragile and is very easily damaged when wet.
Details
Holds rip off and climbs have been and will continue to be permanently damaged due to climbers not respecting this phenomenon. After a heavy storm, the rock will remain wet, sometimes for several days. PLEASE DO NOT CLIMB IN RED ROCKS during or after rain. A good rule of thumb is that if the ground near your climb is at all damp (and not powdery dry sand), then do not climb. There are many alternatives (limestone, granite, basalt, and plastic) nearby.

HUMAN WASTE Human waste is one of the major issues plaguing Red Rocks. The Las Vegas Climbers Liaison Council and the AAC provides free "wag bags" in several locations (Black Velvet, First Pullout, Kraft Mtn/Bouldering, The Gallery, and The Black Corridor). These bags are designed so that you can pack your waste out - consider bringing one to be part of your kit (just like your rope and shoes and lunch) no matter where you go. Once used, please dispose of them properly (do not throw them in the toilets at the parking area).

Location
Hike up the White Rot Gully and descend in to the main Aeolian Wall drainage to the mouth Willy's Couloir. Proceed up into the large gully and aim for the first recess on the right. Pink Tornado Left starts on the main wall that is behind the right side of a 200 foot tall white triangular flake.
Once on the Sherwood Forest ledges you can rappel
Dogma
with a single 70m rope. Or you can climb another route (ie.,
Gwondonna Land Boogie
or Scotty) up to summit Mount Wilson. This would make for a climb with one of the greatest elevation gains in the park.
From the base of the route it is unnecessary to hike back up to the White Rot Gully. Walk down to the lowest point of the Aeolian Wall gully where further progress is cliffed out by waterfalls. Two rappels with a single 60m rope get you down. This is much easier than downclimbing the White Rot.
Description
Pink Tornado Left climbs out of Willy's Couloir and up to Sherwood Forest below the Horseshoe Wall on Mount Wilson.

Pitch 1, 200 feet, 5.9+ Ascend the flake system until it taps out about halfway up. Traverse left into the main corner system and continue up to a niche between the large slab and the main wall. Belay from the rappel tree.

Pitch 2, 160 feet, 5.9 Return to the main wall and climb the pleasing crack to just below the roof. Hang from old two bolts and belay. Anchor can be supplemented with a #2 Camalot.

Pitch 3, 80 feet, 5.8 Slide up the notch in the roof. Belay from bolts on your left or head up and right a short distance and build a belay at the base of a left-facing corner on a large ledge.

Pitch 4, 150 feet, 5.7 Climb the left-facing corner.

Pitch 5, 110 feet, 5.7 Continue climbing the left-facing corner to the large ledge.

Pitch 6, 50 feet, Class 3 Hike to the base of the wall below another left-facing corner system.

Pitch 7, 190 feet, 5.9 Climb the sustained left-facing red corner to a bolted anchor on the left.

Pitch 8, 60 feet, 5.7 Pull a few short moves on to a ledge. Class 3 and build anchor where convenient. Hike into the Sherwood Forest.
Protection
Standard rack up to a single #4 Camalot.
Photos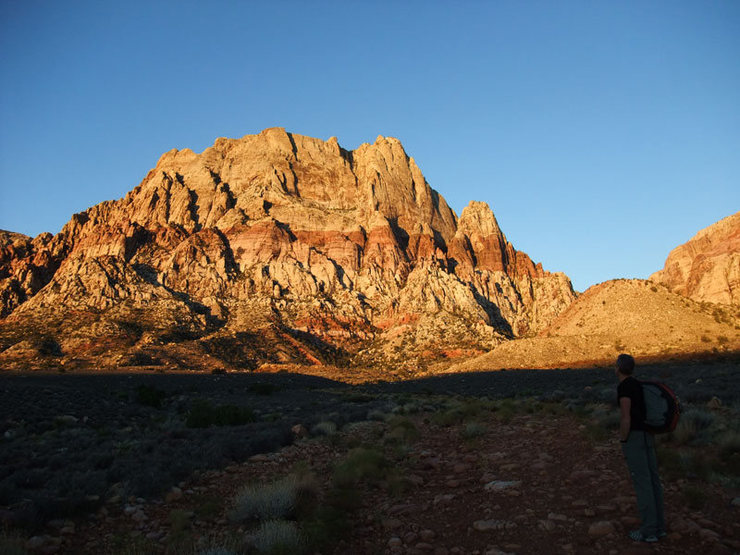 morning light on Mt Wilson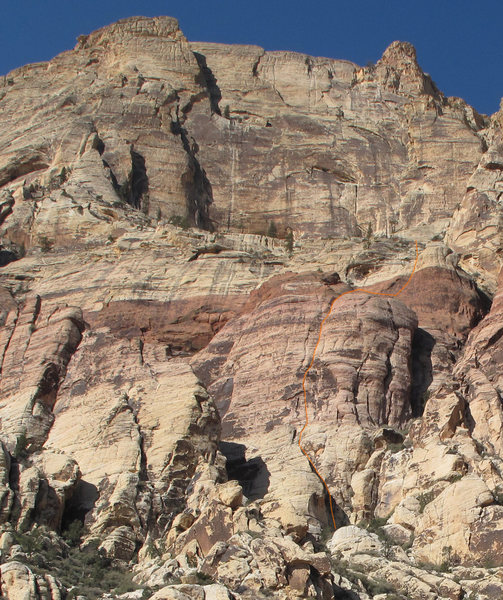 Pink Tornado Left. Route marked.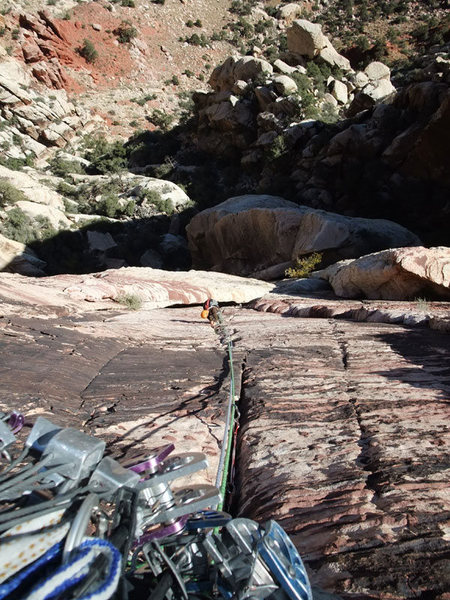 Dow coming up P2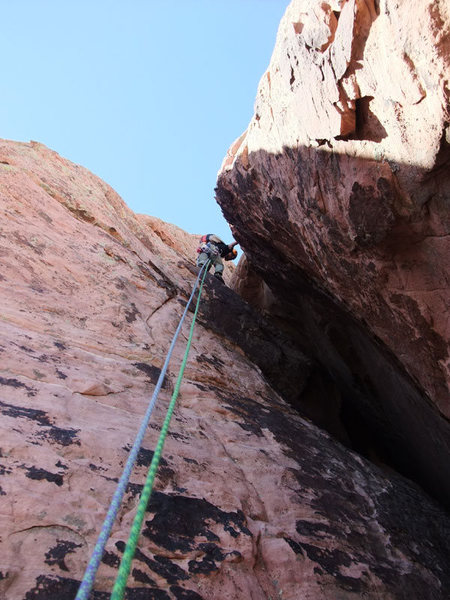 Dow about to exit the wide chimney on P3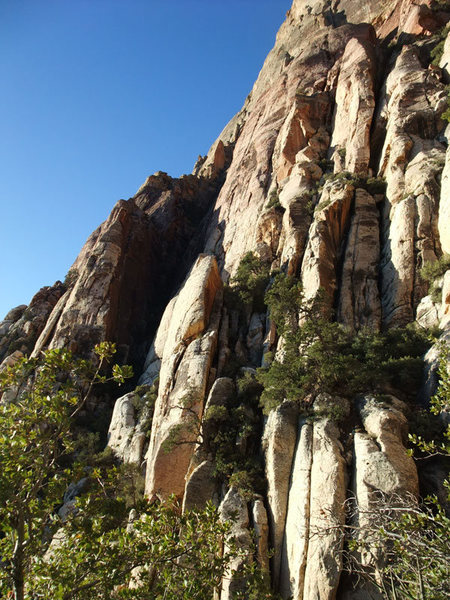 you'll need to descend some slabs before heading up again in the direction of Willy's Couloir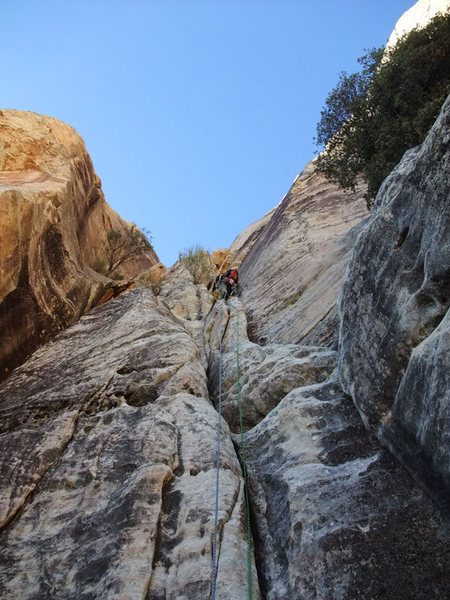 Dow past the crux on P1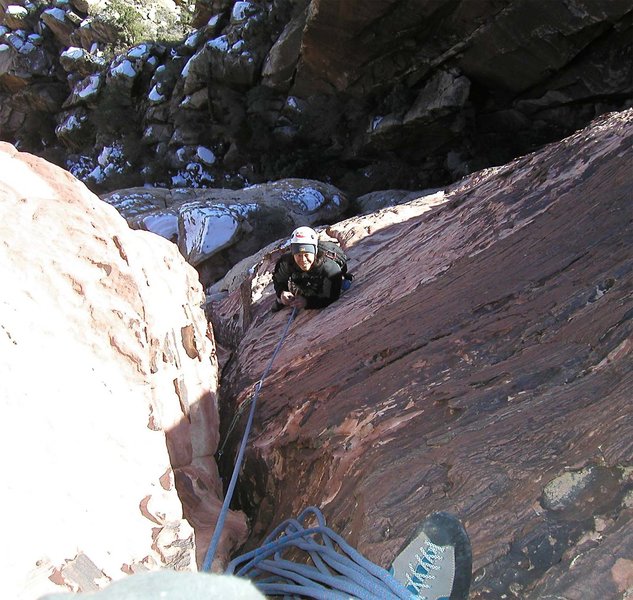 Above the overhang on P3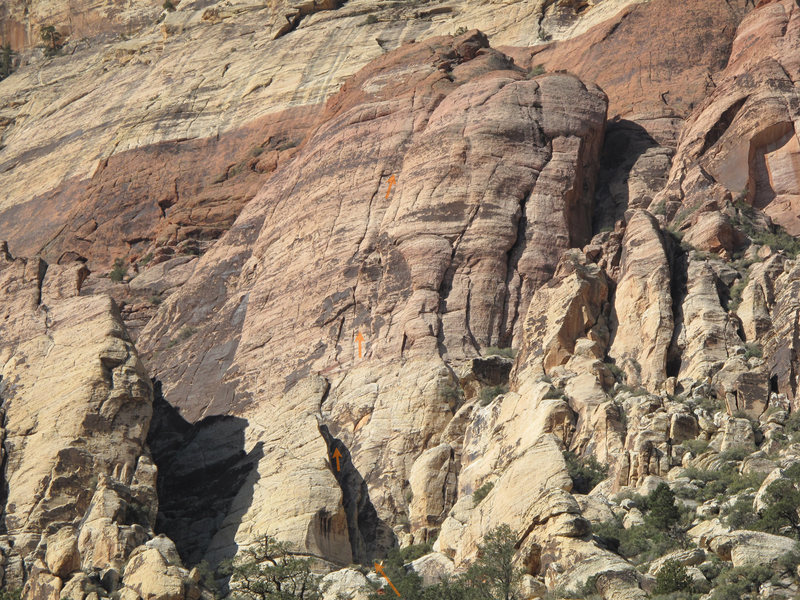 Lower route.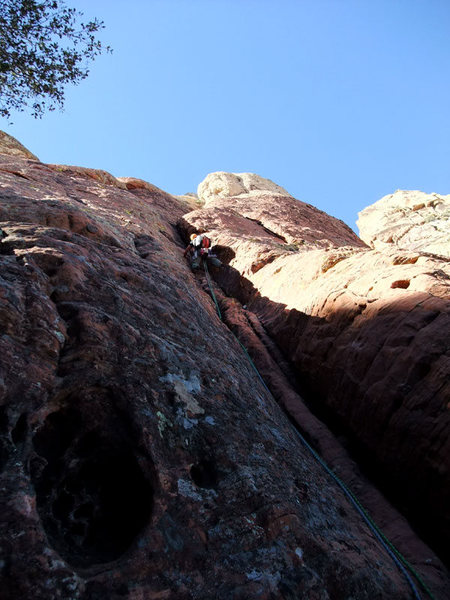 good rock on P5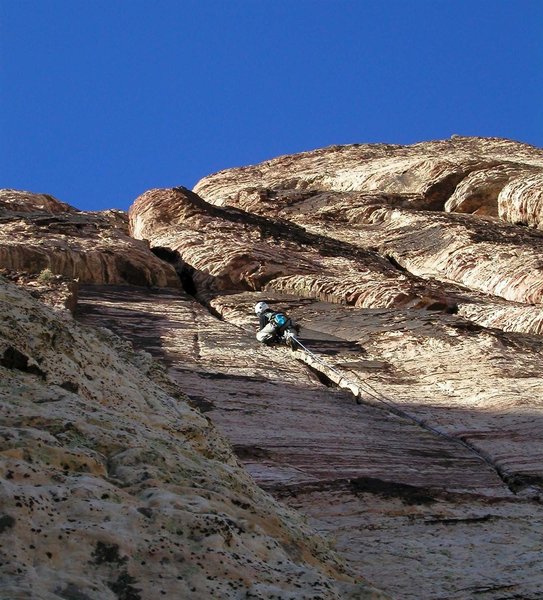 Nice jam on P2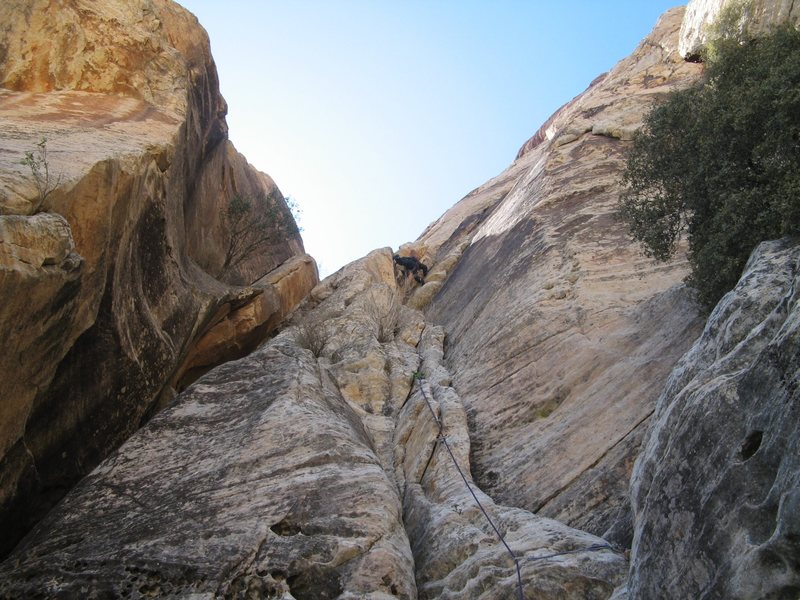 John on Pink Tornado Left, p1. Photo by Brett Barrett.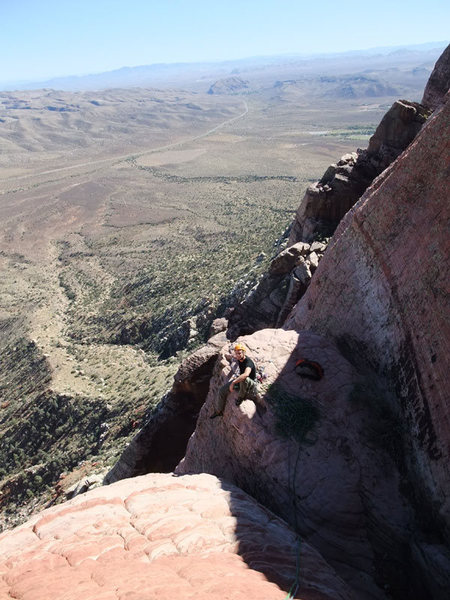 great views from the P3 belay