Sloper City
Avg: 3.2 from 6 votes
Your Difficulty Rating:
-none-
Change
Access Issue:
RAIN, WET ROCK and RAPTOR CLOSURES: The sandstone around Moab is fragile and is very easily damaged when it is wet. Also please ask and be aware of Raptor Closures in areas such as CAT WALL and RESERVOIR WALL in Indian Creek
Details
WET ROCK: Holds rip off and climbs have been and will continue to be permanently damaged due to climbers not respecting this phenomenon. After a heavy storm the rock will remain wet, sometimes for several days. PLEASE DO NOT CLIMB IN MOAB during or after rain.
Indian Creek 2019 info: or the
link
blm.gov/press-release/annou…
.
RAPTOR CLOSURES: please be aware of seasonal raptor closures at the Cat Wall and Reservoir Wall. They occur annually from March 31st until August 31st. *Due to the federal hiring freeze in agencies such as the BLM of Monticello, no official closure for 2017 has been issued and the laws which have been put in place in previous years are not being enforced. Please, for the sake of fragile desert ecology, DO NOT CLIMB at stated walls. These raptors return to the same nesting sites every year to raise their nestlings.
Description
This boulder is sick and a complete power and core problem with techy balance and finesse, there are three crux's, first you go all the way back in the cave and sit on a obvious sit start rock with jugs in your face pull a couple fun moves to a big jug sloper and do a three foot drop down to another sloper (first crux) at that point you should be horizontal and both hands on lower sloper rail then the fun begins do some super core moves to the middle of the rail and be delicate here this is the second crux once you get you right hand on the only good hold to a big dead point to a awesome pinch then keep your core and composer and set a heel set up and do a huge four foot deadpoint to the jug(third crux) caution there is a tooth and it will bite you if you grab it wrong then bust a few fun moves on steep terrain and top it out and its over
Location
From the black box in big bend look up the hill and you will see a lightning bolt like crack and off to the right you will see a cave and some chalk following the arete, pretty straight foward if you are lucky you will see some locals up there screaming cause its kicking their ass.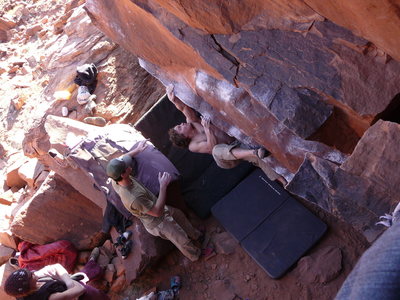 the crux
0