First In Flight
Avg: 3.1 from 10 votes
Your Difficulty Rating:
-none-
Change
Access Issue:
Potentially Closed Due to COVID-19 - Please check for closures before going and DO NOT TRESPASS! / 2020 Raptor Closures on the Nantahala-Pisgah LIFTED
Details
On 5/8 at 5 pm, some restrictions will be lifted for the state. Please check before going regarding closures and DO NOT TRESPASS! Be sure you are practicing social distancing of 6ft between you and other people you do not cohabitate with. For more information see the CCC site:
carolinaclimbers.org/covid-19
In addition - all 2020 raptor closures on the Nantahala Pisgah NF are LIFTED as of 6/29/2020
Description
Good mixed route with sustained climbing and great exposure. Don't forget to look down as you throw the crux move over 150 feet of air. The belay is a little tricky- set it at the lip and have the second climb past it and set one higher to back clean. This will avoid BAD rope drag. Walk off.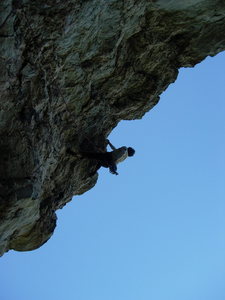 The Ben.
0