Winter Solstice
5.6 R, Trad, Alpine, 160 ft (48 m),
Avg: 2.6 from 7 votes
FA: unknown
New Mexico > Albuquerque Area > Sandia Mountains > Domingo Baca Ca… > Lower Domingo B… > Winter Solstice Slab
Description
This fine route, on good rock, is a truly excellent climb for the budding leader, but you've gotta have your head together for the slabby runout to the first bolt. Then follow the low-angle splitter cracks to the top. The route is a lot longer than it looks from the base, too, adding to the climb's appeal. Too bad it's guarded by the heinous approach.
See the photo topo in the excellent
online guide
.
Location
Starts on the right-center side of the south face of the slab. Head straight up to the bolt, then trend left up a short crack, and switch to another crack a little farther left, which will take you to the top.
Walk off the back of the slab. Head west to get down, or head east to climb Upper Dome.
Protection
There's one bolt at about 30 feet up. Although you can protect a finger crack at about 10 feet up, that won't do you much good against a ground fall until you clip that bolt. Then, it's all gear (take singles in cams and nuts, with perhaps doubles in hand-sized cams). Build a gear anchor on top.
Photos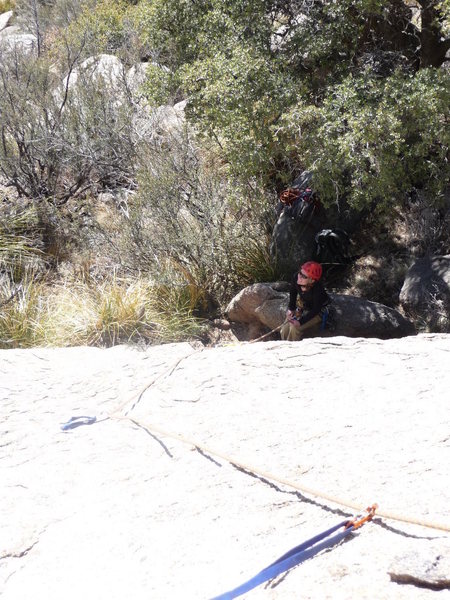 A sort of over-exposed photo showing the beginning of the route Winter Solstice.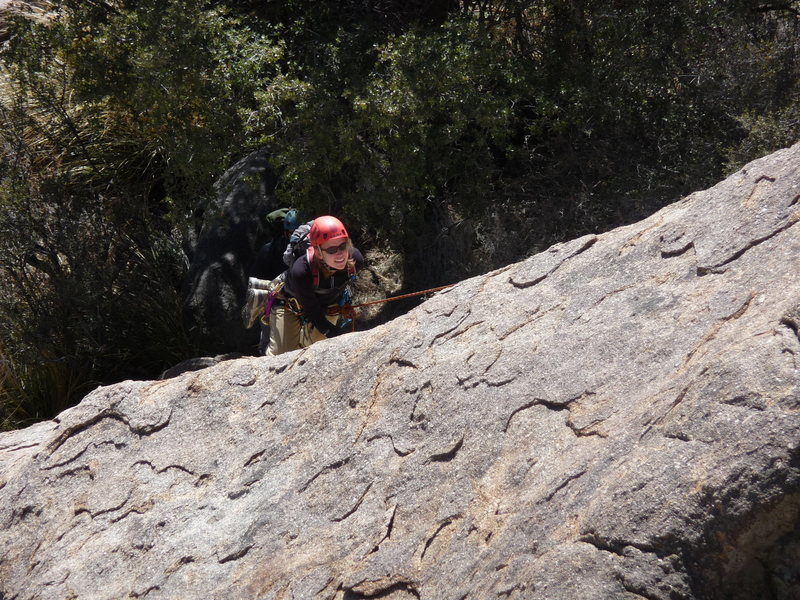 Sarah around the top of the run-out section on the route Winter Solstice (5.6R), Winter Solstice Slab. None of the rock of the actual route is shown. Photo is taken via zoom from the top of Upper…