Black Cat Bone
Avg: 3.8 from 12 votes
Your Difficulty Rating:
-none-
Change
Access Issue:
The Novel Coronavirus & 2020 Seasonal Raptor Closure
Details
Two issues:

1) The novel coronavirus and Index residents.
Residents of Index are very concerned about visitors spreading the virus to them. Please be considerate by taking some serious precautions such as

- Be extra safe to greatly reduce the chance of needing a rescue. (Choose partner carefully, just TR routes. Triple-check setups...)
- Do not interact with the people in town or on a trail. (Choose an obscure crag & route. Drive carefully through town.)
- In case the above two precautions fail or you come across someone on a trail or crag, bring a facemask and gloves to wear to prevent spreading the virus from your breath or hands. In lieu of a facemask, a bandana or scarf over the nose and mouth can also reduce the spread of fine droplets from your nose and mouth when you speak. Also, try to keep the 6-foot recommended distance from other people.

2) 2020 Seasonal raptor closure: Our resident pair of Peregrines selected a nest site on the 6th pitch of Sabbra Cadabra this year, similar to 2016 and 2018 nesting seasons. Please do not climb in the area shown here until approximately July 15, 2020. This includes the upper pitches of Sabbra Cadabra, Black Radish, and Hell Bent for Glory.

Every spring, Washington State Parks, WDFW, Access Fund, and Washington Climbers Coalition partner to identify the nest site of Index's Peregrine falcons. Once identified, a spot closure is instituted around the selected nest site through approximately July 15th. Report potential raptor nesting activity to info@washingtonclimbers.org. Big thanks to WDFW and the climbers who are assisting with the Index Volunteer Raptor Monitoring Program each year, and to Patagonia & Feathered Friends for additional support of the Newhalem and Index raptor programs!



Description
Start with a difficult crack bolder problem to the right of the obvious flake start to Twelve Gauge IQ. Climb part of that route and step over to a finger crack on the right face. Getting started in the crack is the crux. One can traverse left at the top into the sport climb Twelve Gauge IQ, or, I believe, head right to another anchor. I can't remember if this other anchor currently exists, however.
Location
A 60m rope lowers from either anchor. This and the aforementioned Twelve Gauge IQ are located on the far left side of the Blues Cliff, to the right of Accidental Discharge.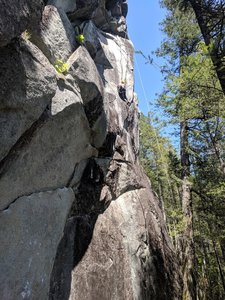 Route
0