Black Cat Bone
Avg: 3.8 from 17 votes
Your Difficulty Rating:
-none-
Change
Description
Start with a difficult crack bolder problem to the right of the obvious flake start to Twelve Gauge IQ. Climb part of that route and step over to a finger crack on the right face. Getting started in the crack is the crux. One can traverse left at the top into the sport climb Twelve Gauge IQ, or, I believe, head right to another anchor. I can't remember if this other anchor currently exists, however.
Location
A 60m rope lowers from either anchor. This and the aforementioned Twelve Gauge IQ are located on the far left side of the Blues Cliff, to the right of Accidental Discharge.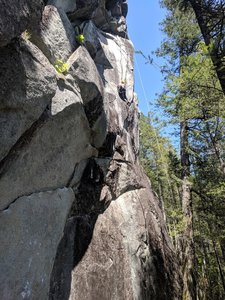 Route
0