Seam Crack
A3-4 R, Aid, 300 ft (91 m), 2 pitches,
Avg: 2 from 1 vote
FA: Ken Trout & Crew (pitch 2 unknown)
Utah > Southeast Utah > River Rd > Anasazi Buttress
Access Issue:
RAIN, WET ROCK and RAPTOR CLOSURES: The sandstone around Moab is fragile and is very easily damaged when it is wet. Also please ask and be aware of Raptor Closures in areas such as CAT WALL and RESERVOIR WALL in Indian Creek
Details
WET ROCK: Holds rip off and climbs have been and will continue to be permanently damaged due to climbers not respecting this phenomenon. After a heavy storm the rock will remain wet, sometimes for several days. PLEASE DO NOT CLIMB IN MOAB during or after rain.
Indian Creek 2019 info: or the
link
blm.gov/press-release/annou…
.
RAPTOR CLOSURES: please be aware of seasonal raptor closures at the Cat Wall and Reservoir Wall. They occur annually from March 31st until August 31st. *Due to the federal hiring freeze in agencies such as the BLM of Monticello, no official closure for 2017 has been issued and the laws which have been put in place in previous years are not being enforced. Please, for the sake of fragile desert ecology, DO NOT CLIMB at stated walls. These raptors return to the same nesting sites every year to raise their nestlings.
Description
Very very steep scary nailing on sub par rock. Someone on a subsequent ascent drilled angles/bolts next to the seam and then pulled them. Some of the holes were patched and angles were left in the others (glued in). Pitch one involved tons of shallow stacks and a few tipped out beaks- pendulum left off a beak (shallow) to some good gear in a right facing corner-more stacks to a bolt- and out the roof on nuts, beaks, angles and a hook. Good belay.

Pitch two involves hooks to a rivet ladder (occasional hook) to more of the same with bigger gear. Hanging Belay

pitch 3?
Location
next route left of Artist Tears
Protection
Leeper Z nailers (all sizes), beaks, tons of angles, sawed offs, hooks, rivet hangers, cams to #3 camalot, screamers.
Photos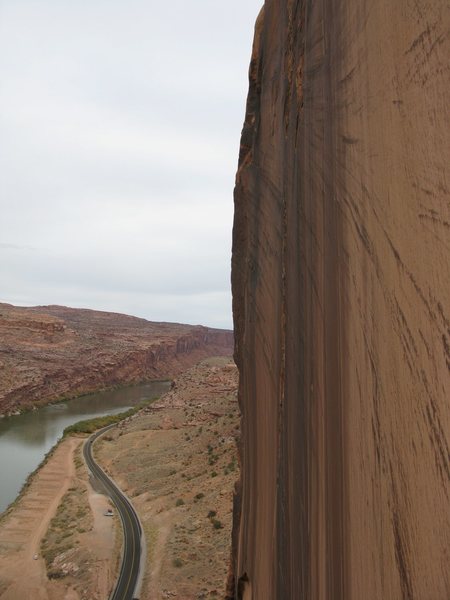 Looks like a wild line.