Aloha Arete
Avg: 3.1 from 57 votes
Your Difficulty Rating:
-none-
Change
Access Issue:
Fragile Sandstone: Don't Climb Wet Rock
Details
Kelly Canyon is a sandstone climbing area and the rock is very fragile when wet. Be aware of recent weather and ask a local if you are unsure of conditions. Do not climb for at least a day following rainfall. Do not climb on rock that is visibly moist or seeping.
Description
Start with crimps and make a couple tricky moves to the excellent sloper rails on the arete, then onward to a gravy finish. Smart footwork and body position are essential.
Location
Upon entering the Trailer Park, this is on the wall directly to the left and is very obvious. The topout puts you back on the trail.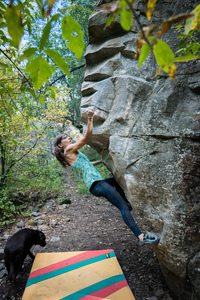 Aloha
0