South Face
5.6, TR, 30 ft (9 m),
Avg: 2 from 3 votes
FA: some drunk guy, probably
Wisconsin > Niagara Escarpm… > High Cliff SP > 2. W Side > 4. The Stairs &… > Stairway Tower
Description
There are a couple lines possible on the south face of this little, freestanding tower. In search of some routes for kids, you might look here, but the reaches may make it tough for little ones. Nonetheless, there are some more lines to do on this face beyond the
Tower Arete
and the
Access Route
once you have a rope/anchor up there.
Ascend the easy lower face. From here, you can move right at 2/3's height, then traverse back left above a smoother section of face. You can also finish on the arete on the right. Or, you can move left at half height, aim for a sort-of-crack, then pull the small overhang (~5.9). Beware of an ~18" loose block just below the overhang.
You can downclimb the
Access Route
or simul-rap the south and north faces.
Location
This is on the south face.
Protection
TR or possibly the occasional small cams in the horizontals. On top, there is a crack fitting #12 BD nut to #3 Friend sizes (also useful for anchors for other routes on this tower).
Photos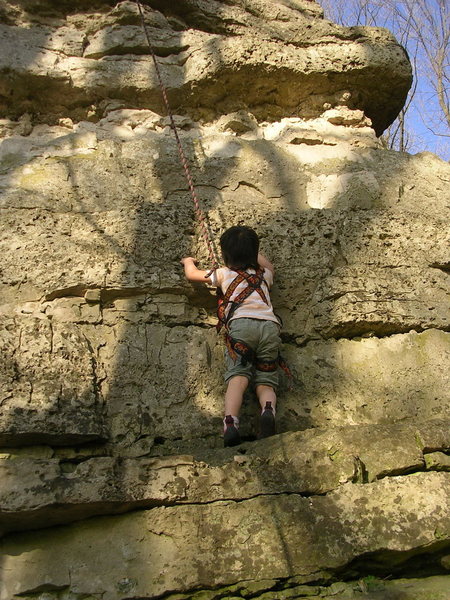 Agiimaa having fun.