The Bulge
V4, Boulder,
Avg: 2 from 1 vote
FA: Ben Ingman
Minnesota > Mankato Area Bo… > Rasmussen Woods… > Lonely Boulder
Access Issue:
Private Property: Open (with restrictions)
Details
Climbing in Mankato is currently operating under a don't ask don't tell policy. It is imperative that climbers in Mankato keep an incredibly low profile at every destination entered.
Access Issue:
Lonely Boulder Property Lines
Details
The Lonely Boulder's property lines are unknown, it may be park, it may be private property. Just in case, I recommend approaching from the East (downside of the hill). Be respectful and keep the usual low profile! :)
Description
Start on a decent left hand sidepull/pinch with right hand lower on a undercling/sidepull. Make a big move up to the right arete (or small moves on VERY small holds). Then climb straight up the arete to the top.
Location
Start is to the right of Loneliest Climber, on a decent side-pull and an OK right hand sidepull down lower (just left of the bulge). Climbs the obvious bulge and arete.
Protection
pad, spotters
Photos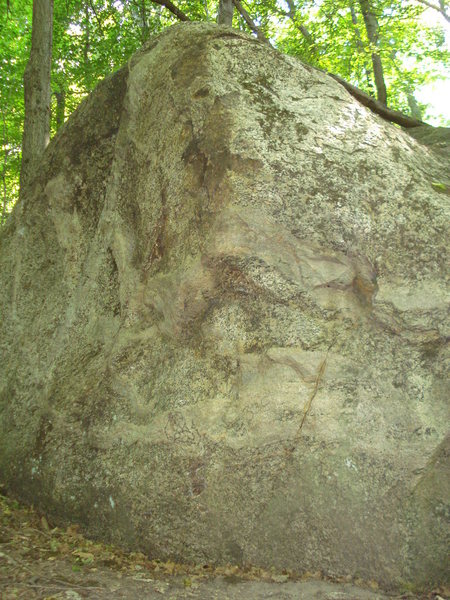 The bulge.