T-Crack Right
Avg: 3.5 from 2 votes
Your Difficulty Rating:
-none-
Change
Access Issue:
Read the BLM Happy Boulders page before you visit
Details
Description
Just as good as it's twin but with a longer traverse and more air under your feet.

Stand-start on the slanting edges and move up left into the finger crack. Climb the crack with good locks (crux) to the good rest at the "Intersection" at 18 feet. Traverse right for 12 feet on good holds in the secure rail and exit around the arete.
Location
Upper Canyon, left side (south rim), northeast face of the T-Crack Boulder. Couple hundred yards or so past the Top Gun Area. The boulder is obvious and the crack faces the main trail.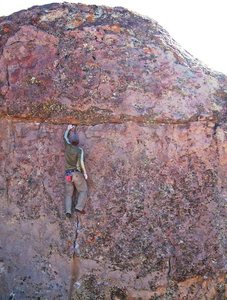 T-Crack
0