North East Face, Regular Route
5.6 WI2 Mod. Snow, Trad, Ice, Snow, Alpine, 3100 ft (939 m), 5 pitches, Grade IV,
Avg: 3.3 from 3 votes
FA: ? 1960's
Utah > Wasatch Range > Wasatch Alpine… > Storm Mountain
Description
This was a popular alpine jaunt in the 70's for aspiring alpinists . The climbing is quite moderate, and if you're confident you won't need to rope up much. If you climb this in the dead of winter, plan on a FULL DAY, because of deep snow in places. If you can time it during a cold spell in early Spring, you'll be front-pointing up the frozen snow, then you could summit before noon...these are ideal conditions and the climbing is CLASSIC!

From Stairs gulch, ascend steep snow gullies, mixed with ice and rock for 2,500' to a notch leading to the upper face. Ascend the face for 5 or 6 pitches to the summit (9,524'). If you're not tired yet, you can follow the S.E. Ridge to the summit of Twin Peaks.

Warning: Beware of avalanche danger form Stairs Gulch
Location
Ascends mostly steep snow couloirs left of the prominent right facing corner high on the face. Begin by hiking up Stairs Gulch. Follow gullies and the face near the top to the summit. Descend from the top by hiking South East a bit and then down a steep gully into Stairs Gulch.
Protection
Small rack, runners, 1 screw.
Photos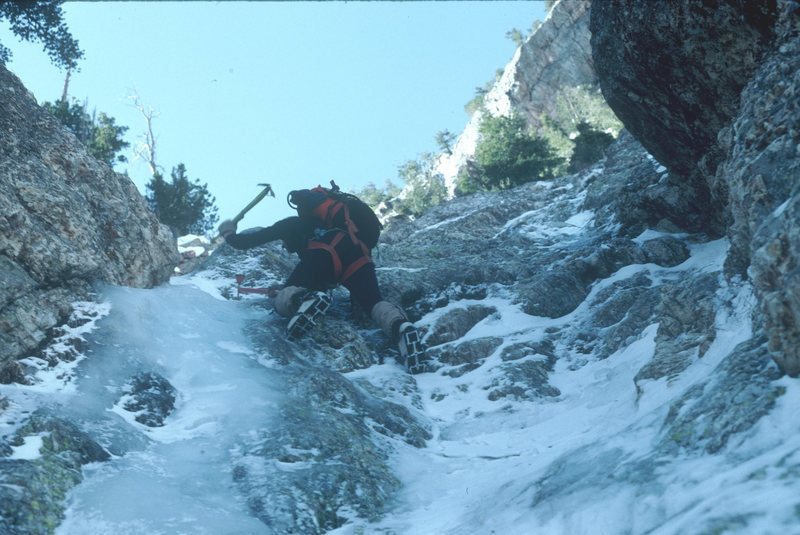 Jonathan Smoot in the upper gully.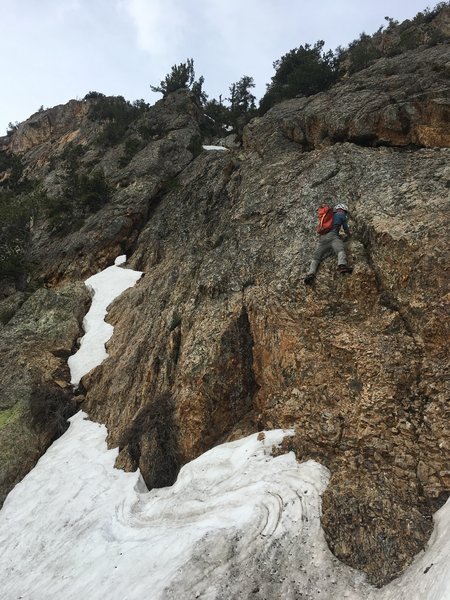 Low 5th class climbing, midway up the face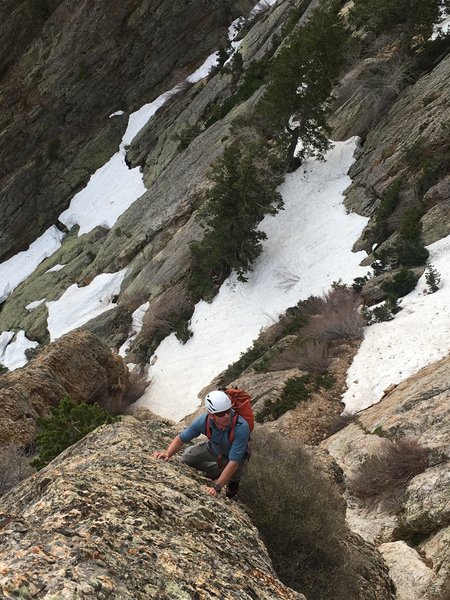 The first couple of rock moves after ascending snow couloirs (May 2019)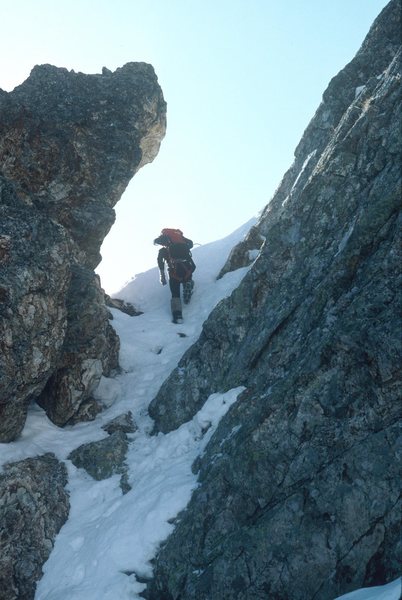 Traversing to the upper face.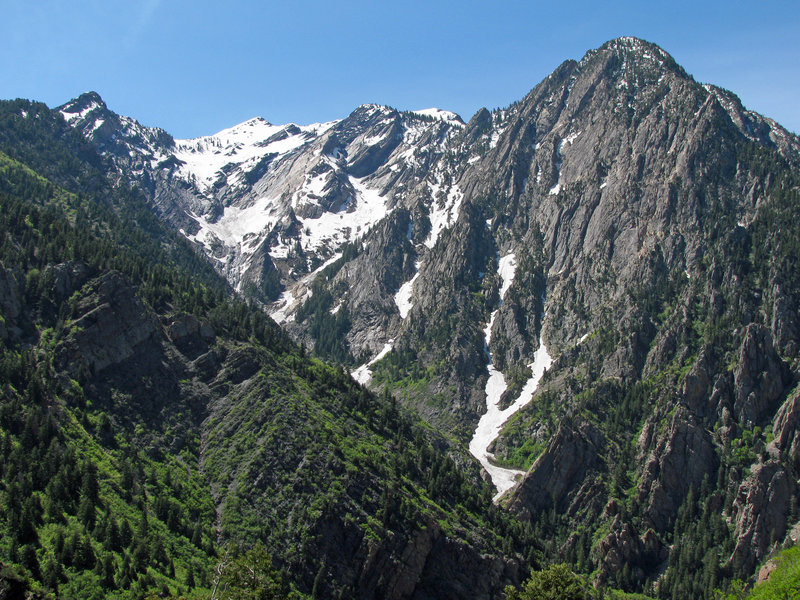 If anyone wants to draw a line on this photo, please do.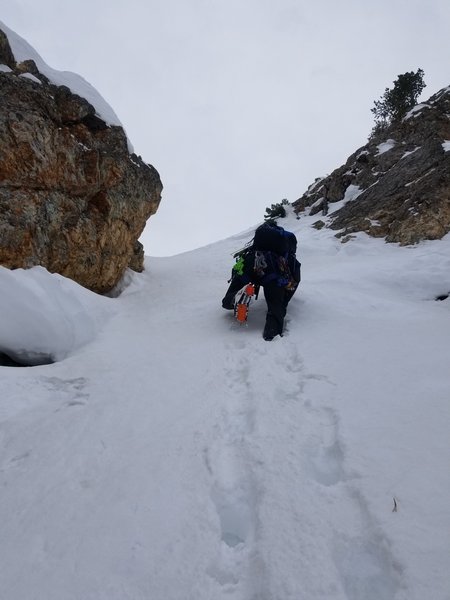 In the same spot as Brian Smoot photo. In the notch above the upper couloir, traversing to the upper face.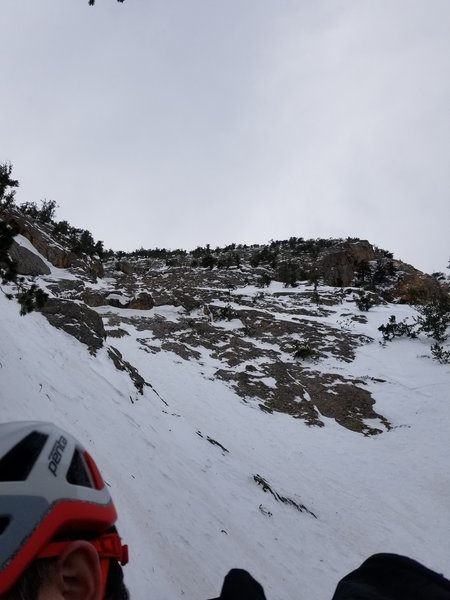 Gaining the upper face slabs is harder than it looks.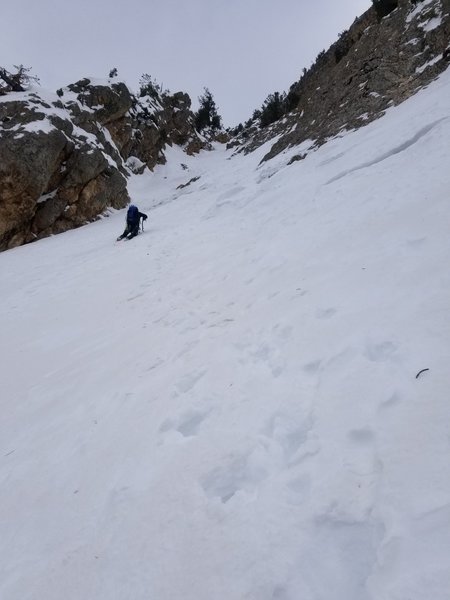 Rob traversing to the upper couloir.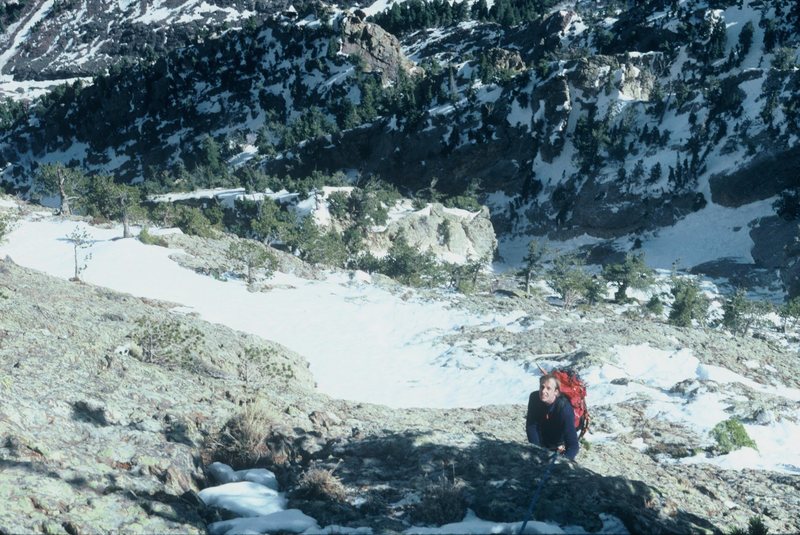 Looking down on the upper face from near the summit.