The Angel's Share
Avg: 2.8 from 79 votes
Your Difficulty Rating:
-none-
Change
Access Issue:
Maple Canyon will be closed to all access June 7th through June 10th and again June 14th through June 17th for major road improvements in the canyon.
Details
So don't go during those times.
Description
A fairly long climb by Maple standards, The Angel's Share starts out low angled and progressively steepens to vertical below the first bolt. The climbing is on vertical to slightly overhanging rock the rest of the way. Positive holds most of the way, along with some pockets, sidepulls, and pinches. Depending on the season you may disturb some of the resident wasps.
Location
The Angel's Share climbs light colored rock between two black streaks. The first two bolts and hangers are reddish brown in color.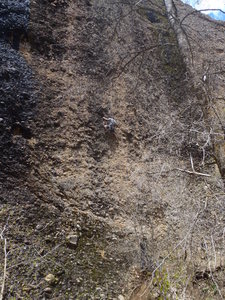 Jon
0