Heatwave
5.10a A3, Aid, 350 ft (106 m), 3 pitches, Grade III,
Avg: 3 from 1 vote
FA: Patrick Kingsbury, Ed Czech May 2007
Wyoming > Devils Tower > W Face
Access Issue:
June Voluntary Climbing Closure and Seasonal Raptor Closure
Details
VOLUNTARY JUNE CLIMBING CLOSURE
The National Park Service asks that climbers choose not to climb the Tower during the month of June. The June voluntary climbing closure was selected as part of the Devils Tower Climbing Management Plan by a working group that included two climber organizations, two American Indian organizations, and other agency and local government representatives.
Climbers are strongly encouraged to consider enjoying the many other climbing options available in northeast Wyoming and the Black Hills area of South Dakota, during the month of June.
Details:
nps.gov/deto/planyourvisit/…
SEASONAL RAPTOR CLOSURE (Effective March 15)
A complete and regularly updated list of closed routes can be found on the park's website.
nps.gov/deto/planyourvisit/…
Description
P1. climb either 'man w/o a planet' (.10a) or 'lack of enthusiasm'(.11?) 125'. P2. follow the straight in crack on thin aid to a 2 bolt anchor. (A2+), 75'.
P3. Follow the now right facing dihedral on sustained thin placements including peckers and heads until possible to pendulum from a fixed rurp right 10' to a two bolt anchor. (A3), 165'
Location
crack directly above man w/o a planet, or 2 cracks right of 'deli express'.
Protection
Standard aid rack including heads, rurps, peckers, beaks, and hooks
Photos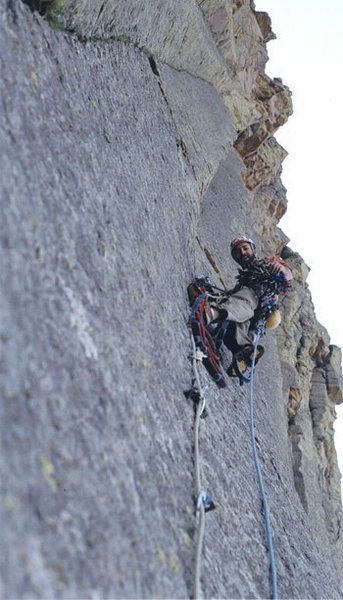 pitch 2 of the heatwave