No Mans Land
5.6 X, Trad, 130 ft (39 m),
Avg: 2.3 from 14 votes
FA: T Swain' K Speckman May1980
New Hampshire > Cathedral Ledge > Thin Air Face
Description
I found this route to be super fun and exciting... You wont want to do it till 5.6 feels like a walk in the park to you cause you will find yourself pulling 5.6 moves well above your gear... Climb well and keep a cool head and you will have a great time...

The original line starts at the same spot as Still in Saigon (5.8) and heads up then right on a ledge until you get to the dike that you will follow for most of the climb...

You can also start right below the dike climbing up to the right of a bush on a ledge (where you can get a small cam in)... Then make a few tricky moves to get to the dike...The direct start is slightly harder but better protected...

Which ever start you use you will end up following the dike up and slightly left as you enjoy classic Thin Air Face climbing... Lots of good edges and fun mantels all very "on your feet"...
At about halfway there is a horizontal break (optional belay) that takes big cams that give you that special "i wont hit the ground" feeling... Continue up following the path of least resistance to protection behind a flake then motor up to the same 2 bolt/ring anchor as Still in Saigon, which you will find on a ledge up and to your left...

Most partys will rap from here or finish up Miss Saigon (5.8+) above...

Have fun and be safe... Just between you and me i found it to feel more like an "R" route, but the book calls it "X" so i posted it as such to be safe...
Location
The next line to the right of Still in Saigon (5.8)...
Protection
Bring a regular rack though you wont need much... It would just suck to be without the piece you need when you are already 40 feet from your last piece...
I used TCUs, a #1 cam, and a nut...

A 60 meter rope doesn't quite make it to the ground so you should have two... Unless you don't mind down climbing the last 20 feet to the ground...
Photos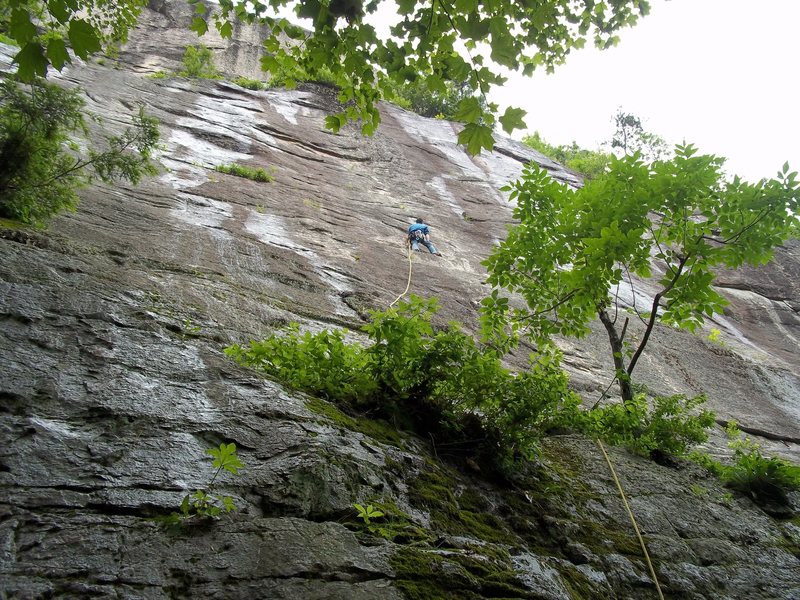 Mike R.