Captain's Log
5.4, Trad, TR, 50 ft (15 m),
Avg: 2.1 from 60 votes
FA: unknown
New York > Gunks > Peterskill > g. Enterprise Wall
Access Issue:
Tree Preservation and Rappelling
Details
Please use bolted rappel anchors to descend whenever possible.

The Mohonk Preserve, GCC, Access Fund, and Petzl have worked to install bolted anchors that eliminate the need to rappel from healthy trees with slings and rings. The primary reason for this action has been to reduce impact on the trees. By monitoring the trees we have direct evidence that this has worked.

Do NOT rappel from trees without in situ anchors. Wrapping ropes around trees is banned by the Mohonk Preserve, and damages the tree even if done only once. The Mohonk Preserve is private land and climbing access is a privilege that can be revoked. It is incumbent upon us as climbers to speak up when we witness environmentally unsound practices – so DO speak up and spread the word.

Currently there are enough rappel stations and walk-off options that a VERY short walk will lead to a bolted station, healthy tree with slings, or down-climb descent. The Gunks Apps, MP, and newer print guidebook each have detailed information that provide Leave No Trace descents.

If you feel there is a situation where there is no good LNT descent, you can contact the GCC or the Climbing Ranger of the Mohonk Preserve directly.

Description
A "slab" climb with a very tricky start; I've seen 5.5 leaders back off this route, as the starting move isn't well-protected. I've also seen several people continue straight up the face, while the route actually goes up and left; you can wander into some distinctly not 5.4 territory if you're not careful (see discussion in comments). There's a shelf with some greenery in it, nearly at the top; you want to stay left of that.
Location
Start on top of the block at base of the face; climb obvious seam to the top, trending left. Easy walk-off.
Protection
Pro is adequate, but can be fiddly to place. Bolts 10' back from the top.
Photos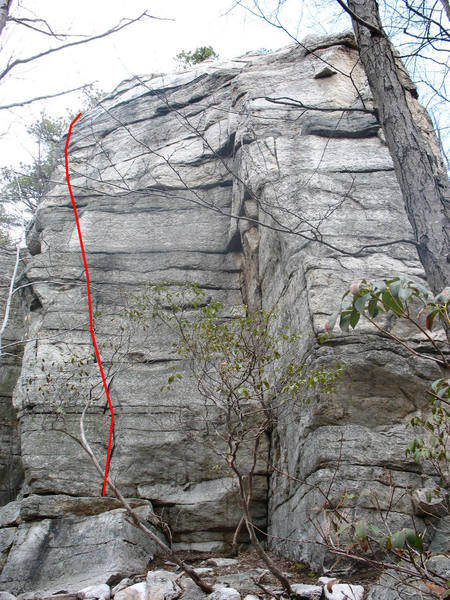 Captain's Log