The Good Book
5.10d, Trad, 5 pitches,
Avg: 3.9 from 51 votes
FA: FA: Harding & Fender - 1965FFA: Bard, Bridwell, Worrall, & Kauk - 1973
California > Yosemite NP > Yosemite Valley > Valley N Side > D. Camp 4 Area > 4. The Folly
Access Issue:
Latest updates on Covid and falcon closures.
Details
Please visit
climbingyosemite.com/
for the latest information on visiting Yosemite.
Ongoing Issues:
Yosemite National Park climbing closures and conditions.
Yosemite National Park has yearly closures for Peregrine Falcon Protection March 1- July 15.
Always check the Yosemite website Peregrine Closure page at
nps.gov/yose/planyourvisit/…
for the most current details and park alerts, and to learn more about the peregrine falcon, and how closures help it survive. This page also shares closures and warning due to current fires, smoke, etc.
Description
This is a fantastic route that has not seen much traffic in recent years due to major rockfall. The entire route is capped by a huge roof (above which a rockfall scar is clear), and for this reason most of the climb is not only unaffected, but also sheltered from future rockfall. However, you will find that the first two pitches have been affected. I don't know what they were like before, but presently there are some loose blocks, flakes, and other features on these pitches which must be navigated. There is good gear to be had, however, and if you tread lightly, you're likely to be OK -- just try to be careful not to pull off a big loose block onto yourself or your belayer. I also don't recommend bivying at the base.

P1 & 2: Link these with a 60m rope and judicious use of runners. This puts you at a huge belay ledge and under the protection of the roof. The rap anchors are modern but have clearly been struck by rocks. They appear safe to use and at least worked for us. On the way up this long pitch you'll encounter lots of loose flakes and a bolt that has been flattened. 5.9.

P3: This is a long, hard pitch. 5.10d liebacking up a corner with exactly one handjam rest and exactly zero stem rests. Sometimes wet, always pumpy. 120' or so.

P4: This is a totally rad pitch of 5.8/5.9 that hand traverses out a series of huge wedged flakes. Savor the exposure and bring a few large cams and long runners to protect it. Easily link it into the next pitch if you runner it well. 50' or so.

P5: Strenuous overhanging fists to hands in the corner. 5.10c, 50' or so.

P6: Perhaps the true crux of the route? This pitch is not to be missed. Starts off as hands and quickly goes to enjoyable fists, then enjoyable handstacks (new #5 Camalot size), then very difficult armbars/liebacks (new #6 Camalot). If you're flexible you can stem through some of this El Matador style. The bolts on this pitch have been (appropriately) chopped -- the pitch can be well protected with modern large cams. 5.9 old school.

A double-rope rap will get you to the top of the long 10d corner (just barely with two 60m ropes). Another rap to the big ledge below this pitch, and a final double-rope rap to terra firma.
Protection
Double or triple set of cams from small to thin hands, singles from hands to very wide. A couple long slings. Hardhats for leader and belayer.
Photos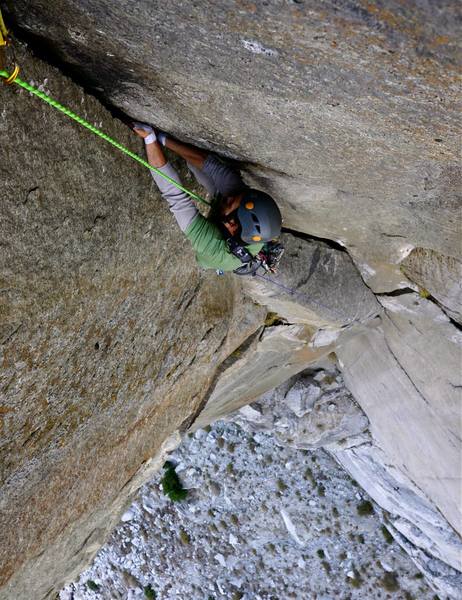 pitch 5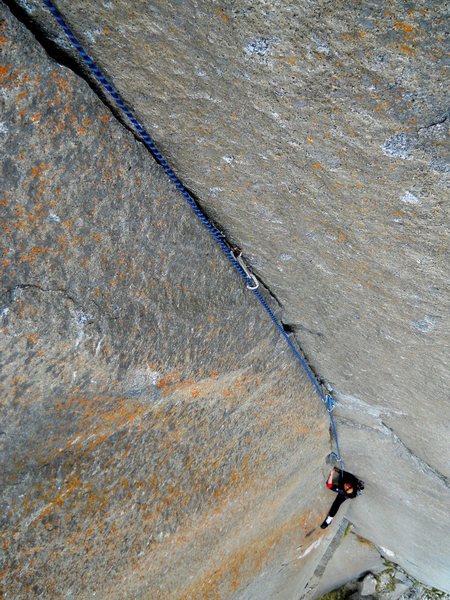 The long and spectacular second pitch. The Good Book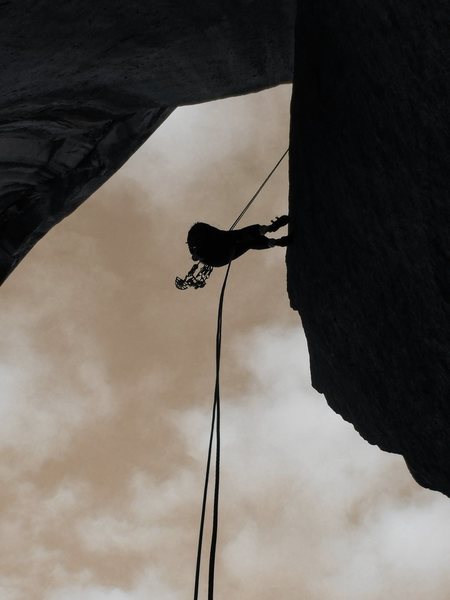 Steep rappels on the way down.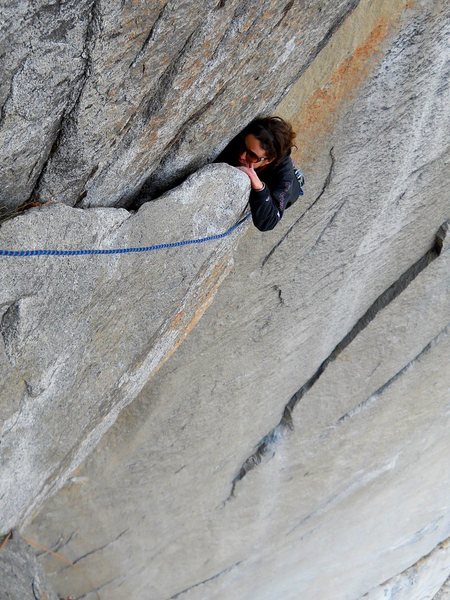 Big exposure above the roof on the 3rd pitch.
Looking down at the LB pitch