V3 Crack?
V3+, Boulder, 11 ft (3 m),
Avg: 2.5 from 2 votes
FA: unknown
Washington > Central-W Casca… > Skykomish Valley > Gold Bar Boulders > Clearcut > Equinox Boulder
Access Issue:
Display Discover Pass, do not block gates, and park off the road
Details
DNR wants to pass on a friendly reminder to display your Discover Pass, not block any gates, and park well off the road to prevent getting ticketed or towed. Access Fund and Washington Climbers Coalition continue to partner with DNR on stewardship and management of the Gold Bar Boulders and their access sites. Learn more about getting outdoors on DNR-managed lands on our website:
dnr.wa.gov/go
Description
Climb the slightly overhanging crack. Crux involves a big move from a good side pull up to a horizontal crack.
Location
On the "backside" of the Equinox boulder.

From the East forest parking walk along the trail towards the West forest just inside the the forest, this boulder sits on the edge of the clear cut and forest in a cluster of big boulders. It is about 50 yards East of the West Forest Arete
Protection
A couple of crash pads and a spotter or two.
Photos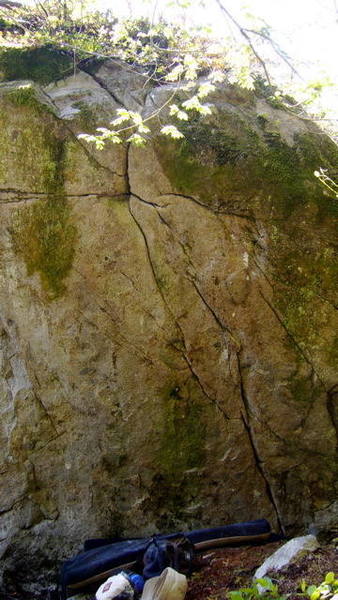 V3 Crack