Born of Water
5.10c, Trad, Sport, 1000 ft (303 m), 9 pitches, Grade III,
Avg: 2.4 from 11 votes
FA: Mark Colby and Mike Strassman, 1995
Arizona > Southern Arizona > Baboquivari Peak > W Face/ Southwest Arete
Access Issue:
Caution: Human and Drug Trafficking
Details
Traffic from drug smuggling and illegal immigration is high in this area. Exercise caution. US Border Patrol recommends avoiding this area completely after dark.
Description
This long, slabby route follows a waterchute from the second through fourth pitches and continues on a left traversing dike after that. The crux is the third pitch which is a very well bolt-protected waterchute up a headwall. It's short but has some excellent moves. There's only one other difficult pitch, the third, which is a long bolt-protected face with the crux move over a shallow roof. Other than that, the climbing never really gets any harder than 5.7 with fairly sparse pro. Difficult route finding near the top with many different ways to go. Good rock on the harder pitches and loose, flaky rock on the rest. Babo is a fabulous summit, so any route to the top is well worth it.
Location
The route is located on the south/southwest face of the peak. Bushwhack past the start of the Forbes Route along the Great Ramp to Lion's Ledge. Head down Lion's Ledge for about a 100 yards and look for a dead 12' log resting against a small pillar. This is the start. The first pitch follows a left leaning ramp crack and turns back right ending on a small pillar below a shallow overhang. Descend the Forbes-Montoya route. Expect some steep down-climbing and at least 1 rap. If doing the route from car to car, allow at least 3 hours for the approach, 4 hours for the climbing, and another 3 hours for the descent and walk back to camp. Makes for a long day.
Protection
Rack needed: at least 12 quickdraws and 1 set of cams to #3 Camalot. 1 set of nuts. It pros well in the harder areas.
Photos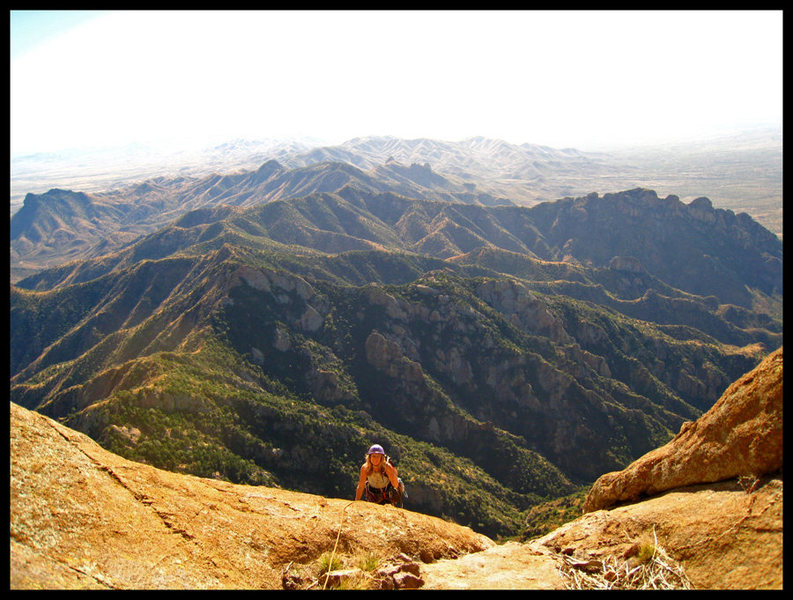 Marilyn topping out on Born of Water on Baboquivari Peak in southern AZ.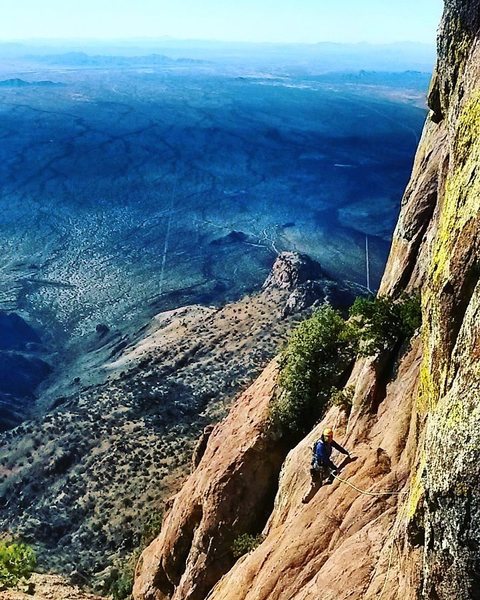 following Kevin's heroically speedy lead of BoW