Arch Tower: Knot in My Backyard
5.9, Trad, 250 ft (76 m), 3 pitches, Grade III,
Avg: 3 from 3 votes
FA: Steve Bartlett, Paul Ross (alt leads) Layne Potter. 03/01/06
Utah > S Central Utah > San Rafael Swell > San Rafael Swel… > Smith Cabin
Description
The Arch Tower has a detached arch on its west side, and was named in the hiking guide book by Allen.

"Knot in My Backyard" III 5.9. The route takes the obvious line of deep grooves and cracks on the east end of the tower. Start around the right corner (left end of the north face) up a right-facing flake/chimney.

P1) One move of aid on a 3.5 camalot leads to an awkward entry into the chimney. Continue up a nice hand crack over a bulge, then angle left and up easier terrain to a two bolt belay.130' C0 5.9

P2) Up the groove on the right to easier climbing and a two bolt belay. 80' 5.8.

P3). Scramble 4th class to the summit 40'

Rap the route, two ropes.
Location
Northern Reef, Smith Cabin Area. From the parking area, walk west and in 5 minutes enter an open canyon with a stream. Continue and in 10 minutes the canyon narrows with rock walls and trees. Keep left and after 15 minutes pass large potholes. At 24 minutes go up the canyon on the right. At 30 minutes reach 4 way canyons, go left up slabs, and at about 45 minutes Arch Tower comes into view. Do not take the canyon on the right, but instead go around the rocky mesa to the left, and then diagonal up to the base of the tower. Total time from the parking area is about one hour and ten minutes.
Protection
One set of cams from 0.75" to 2.5" Four 3.0", One 3.5" and One #5 Camalot
Photos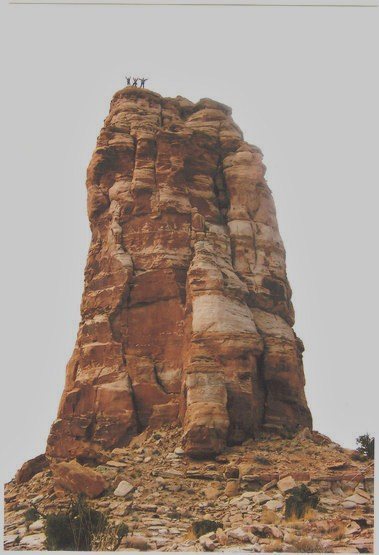 On The Summit First Ascent Arch Tower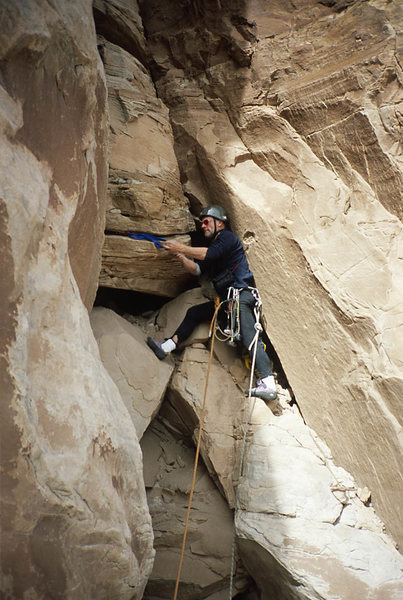 Paul Ross.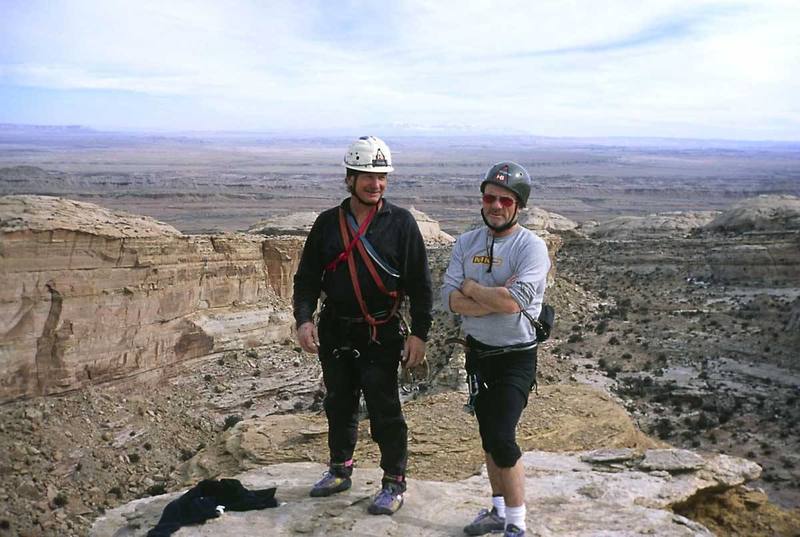 Layne Potter and Paul Ross on summit of Arch Tower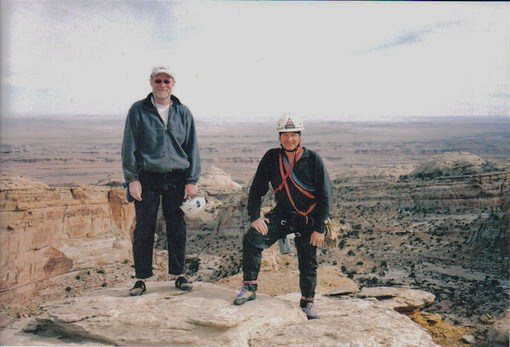 Crusher and Layne on the Summit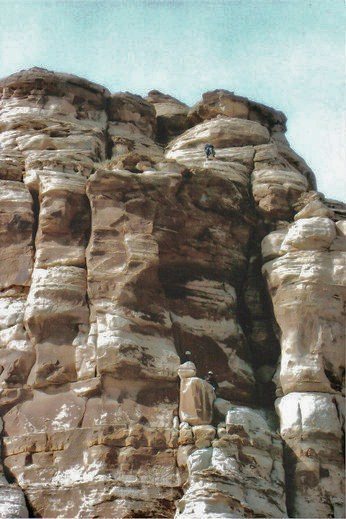 Paul topping out on pitch 2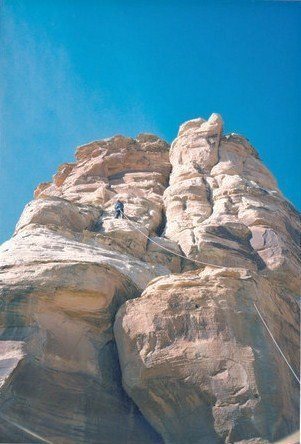 Crusher on First Pitch of Arch Tower