Axis of Weasels
Avg: 1.6 from 23 votes
Your Difficulty Rating:
-none-
Change
Access Issue:
Rim Rock Trail Closure
Details
Rim Rock Trail at N. Table Mt. Park is closed through July 31 to protect raptor nesting territory and ground-nesting bird habitat.

It's likely few climber go there, but it may affect the adverturous.
Description
This line takes the second crack system left of the "
Brown Cloud Arete
" (left of the crack with the prominent chockstone). Start in a shallow, right-facing corner that turns into a straight-in handcrack on the face above. Belay on a good ledge on top, then walk off to the east.
Eds. note, you can traverse right to the anchor of Brown Cloud Arête and lower.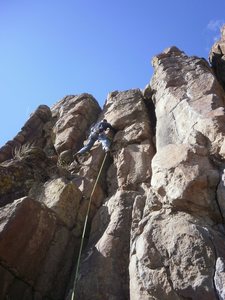 Crux....
0