Werk Supp
5.9, Trad, 200 ft (61 m), 2 pitches, Grade II,
Avg: 3.4 from 700 votes
FA: FA: Pat Ament, Rick Warsfield FFA: Pat Ament, Dave Rearick,
Colorado > Boulder > Eldorado Canyon SP > Bastille > Bastille - N Face
Access Issue:
COVID-19 Notice & Seasonal Closures
Details
Per Dustin Bergman, CO State Parks Officer #770, ECSP:
Eldorado Canyon SP is STRONGLY DISCOURAGING CLIMBING at this time due to the COVID-19 pandemic.
Climbing is NOT ADVISED. Social distancing is challenging in Eldorado Canyon SP with climbing. The park office is closed. Warnings (& possible evictions from the SP) may be issued for violations of the social distancing requirement for a minimum of 6 feet between people not in the same household. In addition, touching surfaces contacted by others, which occurs on climbing routes and between climbing partners sharing equipment & rope(s), is a risk.
Rescues related to this sport are highly technical, require a large number of rescue personnel and equipment, and they generally result in an ambulance ride to the hospital. Please respect the statewide state-at-home order.
Seasonal Raptor Closures
Check Park site for current closures:
cpw.state.co.us/placestogo/…
For more information visit:
cpw.state.co.us/placestogo/…
Double check prior to venturing there. Thanks!
Description
The only reason I give this 3 stars is because the line is disjunct and it doesn't really go anywhere. However the climbing is excellent, certainly as good as many other 4 star routes. The route starts near the NE corner of the Bastille, right off the road and about 50 feet east of the Bastille Crack. Walk just past the first steep buttress (March of Dimes Buttress--about 50 feet high) that lies on the road, 100 yards or so west of the parking lot. The route starts just right of a 40 foot, large rotten dihedral formed by the west edge of March of Dimes Buttress.

P1. Climb up flakes and blocks for 25 feet, then move up and right (tricky pro) to a lieback, right-facing flake that leads to a stance at 50'. Follow a beautiful thin crack that jogs gently back and forth, sometimes taking the appearance of a shallow dihedral. Belay from bolts on a sloping ledge about 110 feet up. I recommend stepping left to the ledge 5 feet or so before the crack ends (especially if your second isn't solid--the bolts are not on top of the crack), (5.8+).

P2. Traverse 15 feet left across the ledge to an obvious, right leaning crack/slot (moving the belay if desired). Climb that for 50 feet (crux, with perfect hand-jamming and awkward feet). Belay on another large ledge. Above is the beautiful 5.10c finger crack of March of Dimes; climb that, or traverse off east. Be very careful on the descent; we got cliffed and ended up rappelling from a tree. Possibly go quite a ways east.

Note: many people do just the fantastic first pitch. From the anchor at the top of P1, you can rap to the ground with a 70 meter rope. With a 60, you'll have to do a little downclimbing, which could be a little sketchy. With a 60 you can rap climber's left to the top of the first pitch of March of Dimes and then again from there to the ground. Be aware of parties climbing up, if you rap directly down the route--this is a very popular single pitch, and, if you rap left of the route, be aware of, and stay out of, the loose chimney/gully between Werk Supp and the March of Dimes buttress.
Protection
For the first pitch a standard rack to a #2 Camalot. If you anticipate sewing it up, doubles in small cams are helpful.

For the second pitch, a single set of gear to a #3 Camalot with two each #1 & #2 should be plenty of gear.
Photos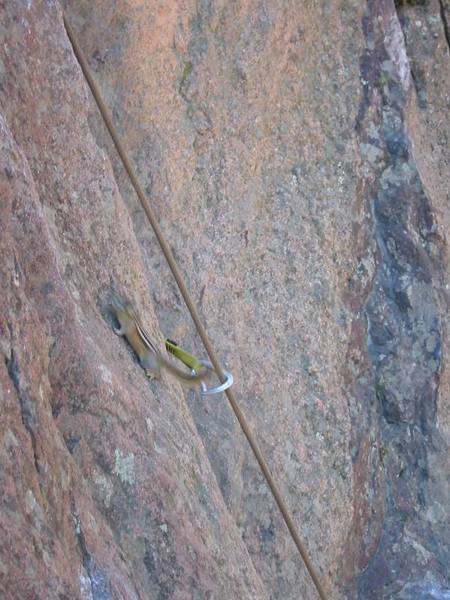 A chipmunk zooming up Werk Supp.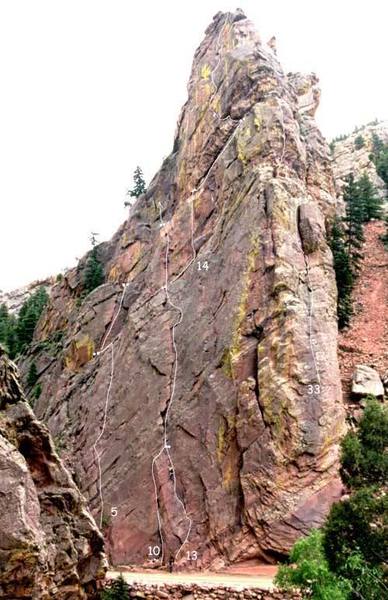 The north and west faces of the Bastille. 5. Werk Supp, 9+. 10. Northcutt Variation, 10+. 13. Bastille Crack, 7 or 8. 14. Outer Space, 10. 33. West Buttress, 11-.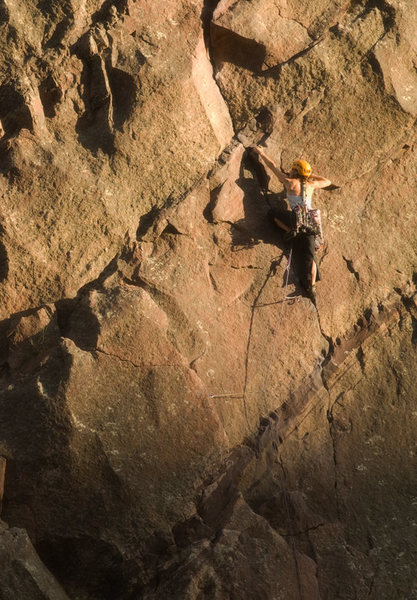 climber on Werk Supp in the evening. (C) follari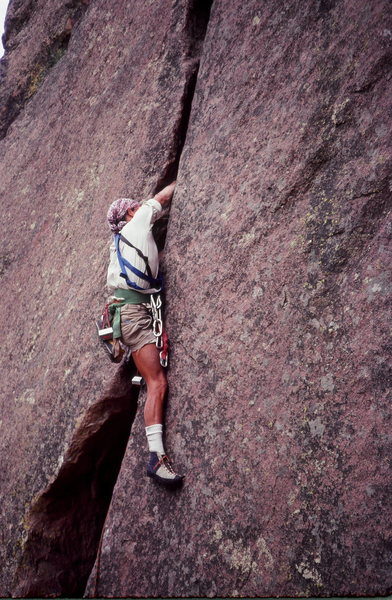 Back in the days of EBs/swami/hexes. They worked well for us. Climber: Olaf Mitchell. Photo: Bruce Sposi.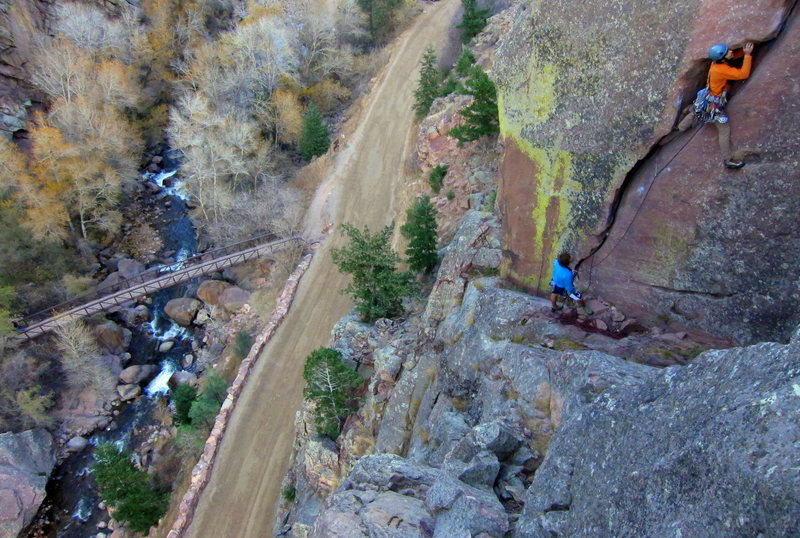 Some folks on P2.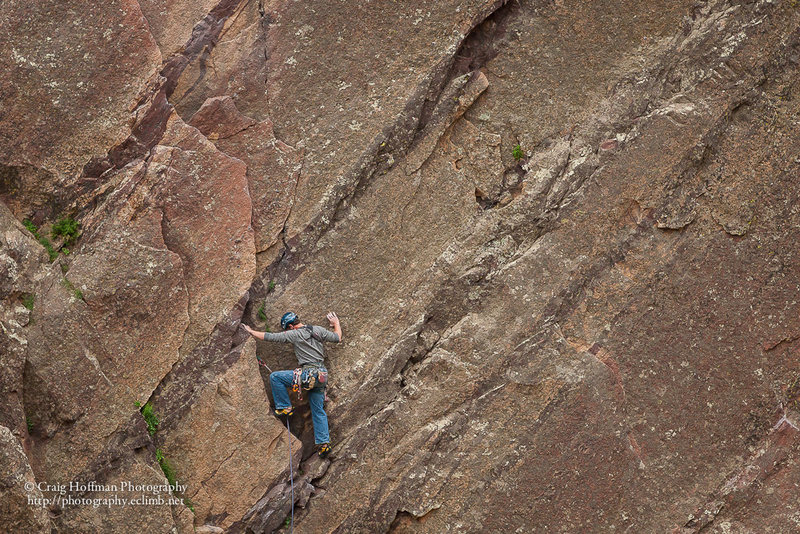 Climber on Werk Supp.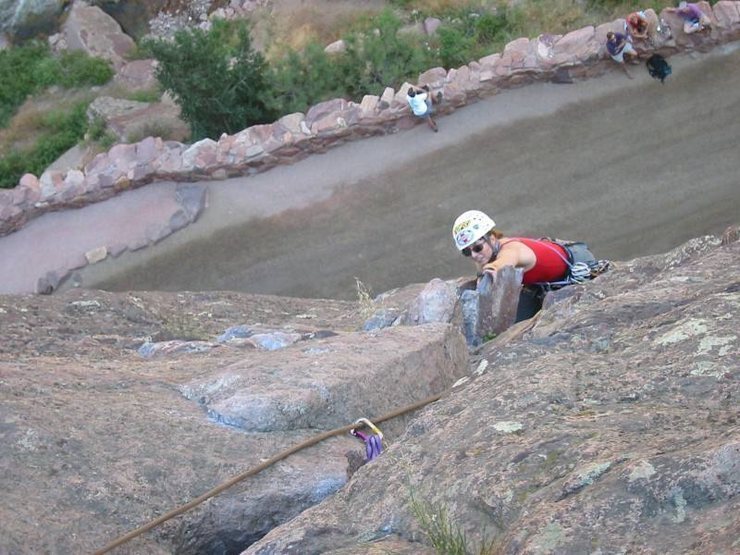 Joanne Robertson chasing the chipmunk up Werk Supp.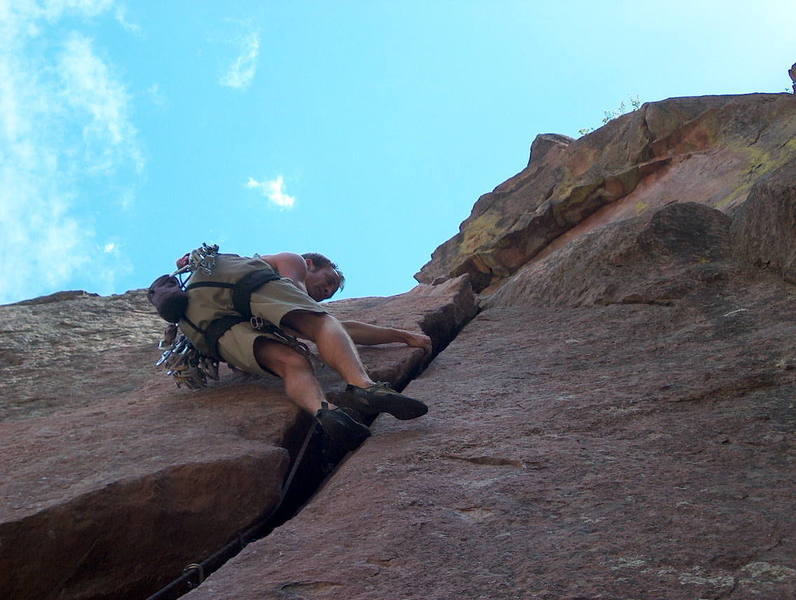 P2: laying back towards the crux (but look for the solid right hand jam just above!)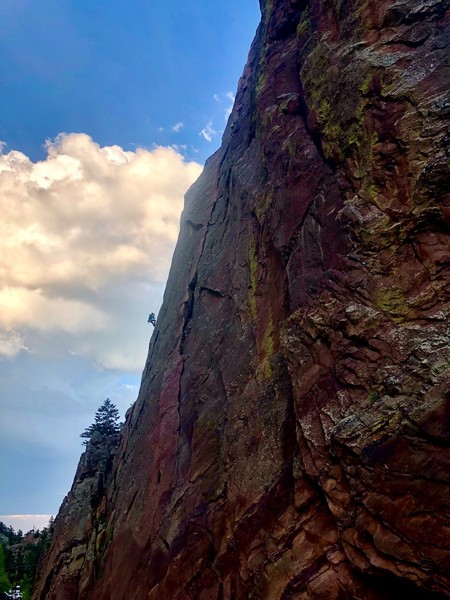 Jimmy rapping Werk Supp after a spring thunderstorm rolled through.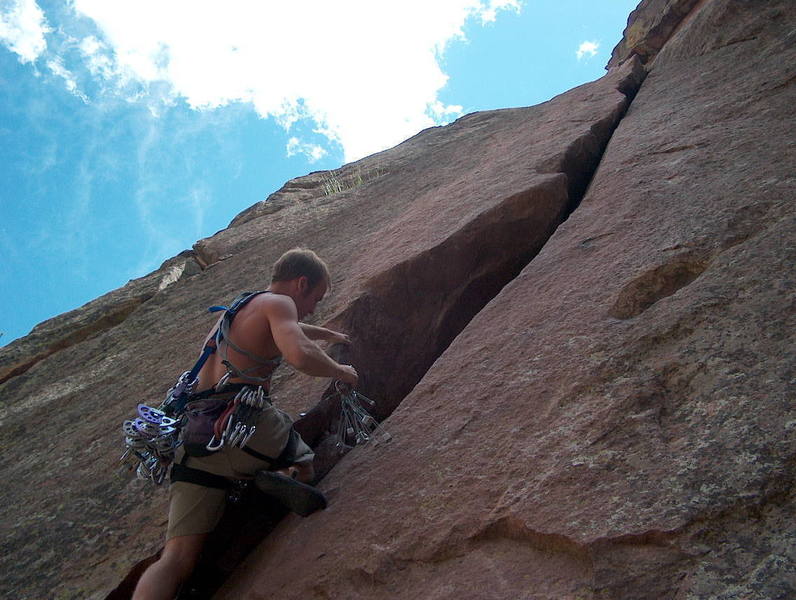 P2: think we brought enough gear?!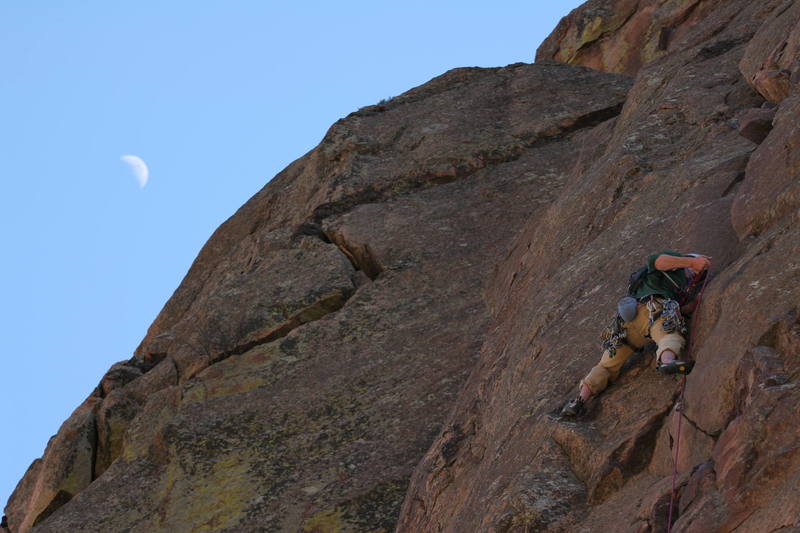 Half way up....Photo credit to Zac Wood.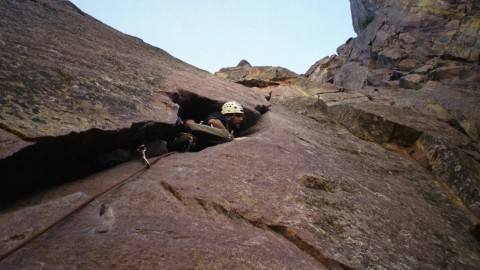 On P2.