Sea Of Anarchy (?)
Avg: 1.8 from 32 votes
Your Difficulty Rating:
-none-
Change
Access Issue:
RAIN, WET ROCK CLOSURES; The sandstone around Castle Rock is fragile and is very easily damaged when it is wet.
Details
WET ROCK: Holds rip off and climbs have been and will continue to be permanently damaged (like Donkey Dong and countless others) due to climbers not respecting this phenomenon. After a heavy storm the rock will remain wet, sometimes for several days. PLEASE DO NOT CLIMB AT CASTLE ROCK during or after rain.
Access Issue:
Trails are closed from sunset to 6:00 am.
Details
Access Issue:
Covid-19 Closures!
Details
Description
Start slightly left of the crack and head up the crack a foot or two then start left across a ridge and then around the bulge. Top out to the left of the bulge. The top out is really easy but it is a bit high. The hardest part is getting around the bulge, make sure to have a good spot.

This route corresponds with route 5 on the topo.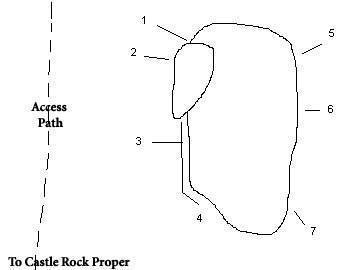 Topo
0