Dwarf Toss
5.11d, Sport, TR, 30 ft (9 m),
Avg: 2.3 from 8 votes
FA: unknown
California > Sonora Pass Hig… > Table Mountain > Cave
Access Issue:
Agreement in place at Gold Wall. Respect signs and private property owners near the crags.
Details
Update: April, 16 2021.

Gold Wall (which is privately owned) is open to climbing.
However climbers must follow the owners rules!

Rules for climbing at Gold Wall:
-No yelling/loud noises
-No fires of any kind
-No camping
-No trash/bathroom
-No publishing routes in books or online (ie Don't post on Mountain Project or other online sites)
-No disclosing exact location in books/online

The land owners continue to have full rights over the Gold Wall and the right to close access at any time if activities occur that make them uncomfortable. We are very thankful to the land owners who recognize the importance of Gold Wall to the climbing community and generously have allowed rock climbing to occur on their property.

Access Fund is working with Tuolumne County, Tuolumne County Land Trust, private landowners and the US Bureau of Reclamation to come up with a solution to the Shell Rd parking issue. Please be mindful of where you park when going to Table Mountain, do not block private driveways or vehicle access on Shell Rd and remember this area is a high fire danger zone so use abundance of caution!
It is up to us as a climbing community to ensure the owner's rules are upheld so please if you see something say something!!


Description
This is the second leftmost (uphill) route on the wall, and heads straight up for the four bolts and then traverses left to the top anchor.

The first bolt is reachy, and the crux is getting yourself to it, so it's probably a good idea to stick clip the first bolt.

Crux is getting yourself over the first roof, and is quite hard if you're under six feet tall, though it can be done using a small sidepull grip below the corner of the roof.

Once you get over the first roof climbing gets simpler, with .11a jug moves.

An alternate start involves doing the start of Grotto Monkey (the climb just left) and carefully traversing yourself right to the large horn and large flake system above the first bolt.

You will probably hate yourself for top roping this and all other routes on the Cave Wall, as it often takes a .10ish move to just pull yourself back onroute if you fall off.
Protection
4 bolts to a 2 bolt top anchor.

A directional is probably a good idea on the fourth bolt if you've already got a rope through the top anchors and are planning on climbing this route.
Location
Second from the left on the Cave Wall in the Pit.
Photos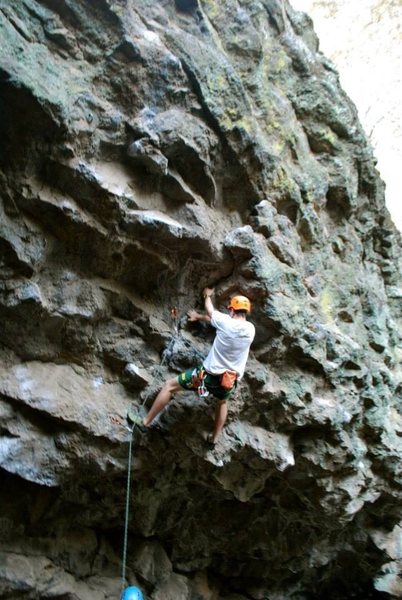 Fun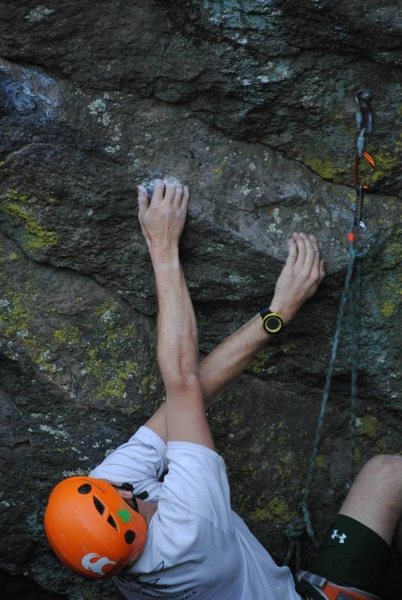 Fun fun fun.