Rat Race
5.11a R, Trad, 50 ft (15 m),
Avg: 1.7 from 3 votes
FA: Tom Gilje, 1982
California > Joshua Tree NP > Lost Horse Area > Jimmy Cliff > Jimmy Cliff - S Face
Description
This route climbs an attractive arete high on the south end of Jimmy Cliff. Scramble to a small platform at the base of the arete. The crux, at the first bolt, is well protected but the climbing remains sustained (5.10) to the next bolt about 10' higher. A fall getting to the second bolt would probably result in decking on the platform. After the second bolt the climbing eases considerably past one more bolt to the top. Three out of five stars for great rock quality and position.
Protection
QD's for three bolts (5/16" or 3/8") and medium cams for anchors. The descent is a walk off. Although bolt protected, this is NOT a sport route.
Photos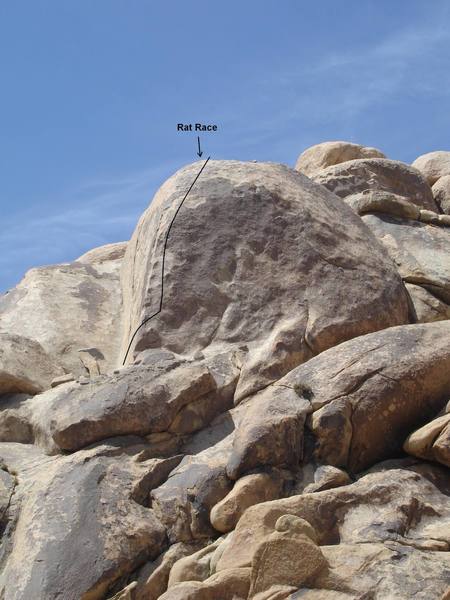 Rat Race, 5.11-, R