High Noon
Avg: 2 from 80 votes
Your Difficulty Rating:
-none-
Change
Access Issue:
RAIN, WET ROCK and RAPTOR CLOSURES: The sandstone around Moab is fragile and is very easily damaged when it is wet. Also please ask and be aware of Raptor Closures in areas such as CAT WALL and RESERVOIR WALL in Indian Creek
Details
WET ROCK: Holds rip off and climbs have been and will continue to be permanently damaged due to climbers not respecting this phenomenon. After a heavy storm the rock will remain wet, sometimes for several days. PLEASE DO NOT CLIMB IN MOAB during or after rain.

RAPTOR CLOSURES: please be aware of seasonal raptor closures. They occur annually in the spring.
Description
This short climb is insecure and sustained for it's mere 35' length. Still, the climbing is interesting. This climb is on the left side (E/NE) of Maverick wall and this time of the year one of the few climbs getting any sun beyond the beginning of the day, perhaps until 10 or 11am. Just to the right of the Hot Toddy and Tequilla Sunrise line there is a 35' chalked thin corner with a brief fist crack at the top. Climb on locks, clings, setms and liebacks to the anchors. A few of the sloping feet along the way were slippery due to shear (making sand) while climbing. Place pro to account for unexpected fall potential.

Despite the shortness of this line, it is still relatively good. As well, despite it's shortness, it also made a poor warm-up due to the power/thuggishness used for a few of the moves.

One area guide calls it "10d or 11b" (as a lieback or a crack climb). So maybe you can TR it and it seems easier (like 10d) if you don't have to gain stances to see and place gear, or maybe you could ignore a few good lie-back moves to make it feel harder (like 11b) but for the onsight lead I'll will call it 11a. A little more physical than a few climbs at that grade, but due to it's length, not more difficult overall.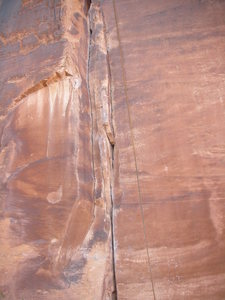 .
0