El Pajaro
International > Europe > Spain > La Pedriza
Access Issue:
Griffon Vulture Nests
Details
Certain routes can be closed during nesting season. Look for a sign at the bottom of the route. Typically these restrictions apply from January to August. Local climbers have worked with rangers to only close routes with nests instread of closing down the entire park. If rangers see that climbers don't respect these closures they may heavily restrict climbing entirely.
Description
In the middle of la Pedriza lies a towering pillar with what seems to be a giant granite bird sitting on top - El Pajaro. With a prominence of around 600', this formation has the longest multi-pitch routes in the whole park. The routes are hard, adventurous and varied with wide cracks, dihedrals, chimneys and of course, run out slabs. From the summit you can survey the whole of la Pedriza form its center with only griffon vultures for company.
Getting There
Driving: Park in Cantocochino parking lot (you will have to get early in peak season to get a spot) and walk up the main trail heading north (known as "Autopista de la pedriza" towards "Refugio Giner de Los Rios" Eventually you will have to take a right crossing a stream and will start trekking uphill. The approach takes over an hour and its easy to get lost. If you cant enter the park you can leave your car in Manzanares (Parking el tranco) and hike along the river to the Cantocochino parking lot. This will add around 30-40 minutes.

Public Transport: There are regular buses to Manzanares el Real from Plaza de Castilla. If you are willing to walk more you can climb in La pedriza without relying on a private vehicle. This works best if you spend a few days bivying out there.
Routes from Left to Right
Photos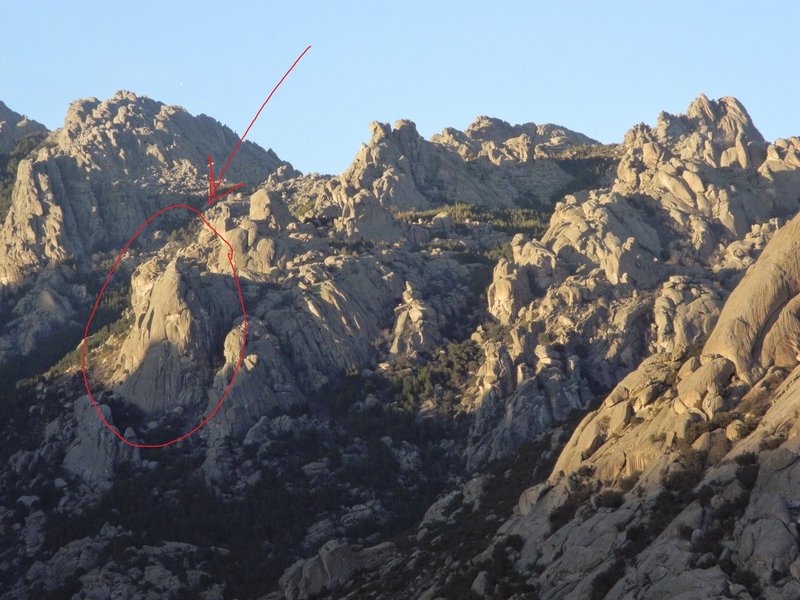 El Pajaro in context