Madrid - Sierra de la Cabrera
International > Europe > Spain
Access Issue:
Raptor Closures
Details
Some routes are closed from January to August. This happens when Griffon Vultures or other endangered birds nest on the ledges near the route. You can consult
escaladasostenible.org
for an up to date list of climbing restrictions. You will also likely find a sign on the affected route itself. Please refrain from climbing on these routes as there are forces in Madrid's administration that would easily shut down all climbing in protected areas if they perceive that this compromise of closing selected routes is not working.
Description
Mostly Trad climbing in great quality granite just outside of Madrid. In contrast with more well known La Pedriza the granite here is more cracked and featured. You will finds lots of cracks and dihedrals.

With secure pro placements and minimal run-outs making for a more classic trad climbing experience on granite. It's a great training ground for trad as there are routes ranging from IV all the way to 7a and above. La Cabrera is a mountain range shaped like a line east to west. On the easternmost point lies Pico de la miel , here you will find a high concentration of multi-pitch classics. As the sierra spreads east you will find a series of needles each with its own set of routes of 1 to 3 pitches. One of these is Metamorfosis, the first 7a free climbed in Spain. There is no guidebook for la Cabrera, but there are tons of high quality climbs, knowledge here is transmitted by word of mouth and through a haphazard selection of blogs that are quite messy to navigate and find.
Getting There
Driving: Drive north out of Madrid on the A1 and take an exit in La Cabrera town. Most people park in Cancho del Aguila, a roadside hotel and bar popular with truckers with lots of parking space. Pico de la miel towers over tha parking lot. There are alternative parking spots for other sectors.
Bus: From Madrid take bus 119 in plaza de Castilla. There is one every hour or so. Look up most up to date timetable. The bus will stop right in town and most climbs are a 30 minute approach away, so a good location to climb using public transport (provided you have a trad rack)
Photos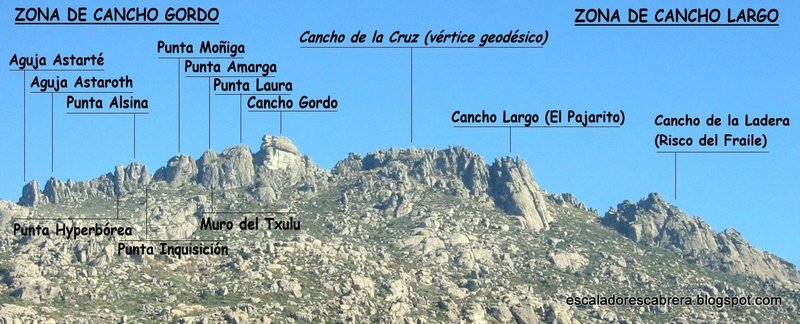 La Cabrera West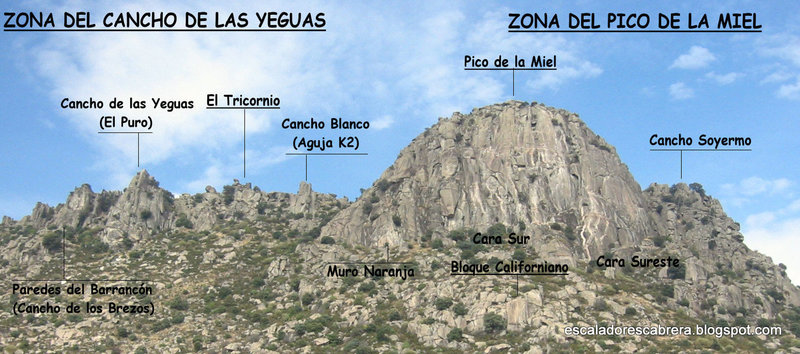 La Cabrera East