To save paper & ink, use the
[Hide]
controls next to photos and comments so you only print what you need.
Tasty Pancho
Arizona > Northern Arizona > Northern AZ Bou… > Flagstaff Bould… > San Francisco P… > First Gully Boulders
Description
Tasty Pancho was discovered in the Fall of 2008 - development has continued throughout the years and still potential for new problems exist. This area is a mix of freestanding boulders and cliff lines with a few 30+ foot tall highballs. It is recommended to rap the taller problems before trying from the ground as the peaks have a pretty harsh climate and holds can get dirty. Most of the problems are on bulletproof rock, climbing edges and pockets on water streaked stone. There are several warm-ups as well as harder poblems hiding among large aspens and conifers. Rarely will you see anyone here.
Getting There
From the Easy Party Boulder: Continue hiking north on the main trail for approximately 5 minutes. Easily visible from the trail you will see a few unnamed warm-ups -worth doing if you are just looking to get the blood moving. Approximately 500 ft. past the unnamed warm-ups you will find a faint climber's trail switch-backing up the hill towards the cliff to the SW. 35.3031 x -111.7036
Routes from Left to Right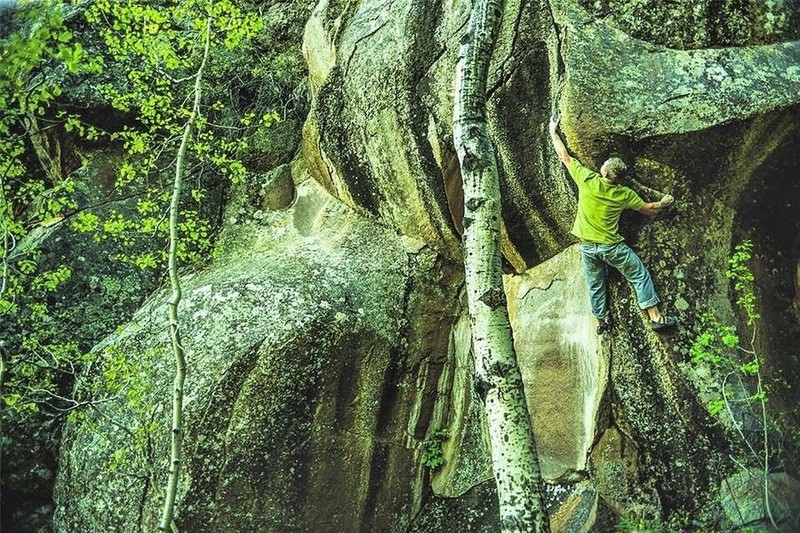 [Hide Photo]
Power-tech moves on The Cougar up in First Gully. Named after the infamous Rocky Mountain Cougar. Photo: Tamara Hastie