Southern Canyon Crags
California > High Desert > Barstow Area > New Jack City
Description
Southern Canyon Crags are located in the hidden canyon just south of Box Canyon West. A lot of shady options are available with a somewhat longer approach. This area has newly developed routes with much more to come.
Getting There
From New Jack proper:
Park at the Predator Wall lot and take the trail out toward the Cliffs of Insanity trail. Once at the old parking area (a big plateau), Continue south on an old dirt bike trail over the ridge. Once at the ridge, follow cairns along the long westward traverse into the creek bed. Follow cairns up the canyon to the crags.

From Lucernce Valley:
From the 247, take the Lucerne Valley Cutoff road west. Make a right on Nearbank road. When this dead ends, make a left and then follow the road as it makes an immediate right. Keep going north on this unnamed road until you reach Villa Nova road. Make a right here and drive west until you dead end into the trash dump. From the trash dump, go directly north and park when you can't drive any further (roughly here 34.659029, -116.978935). From here, take the path of least resistance into the canyon and up toward the individual crags. No trail maintenance has been done from this direction. No cairns, but you can follow the creek bed to get up to the various crags.
Photos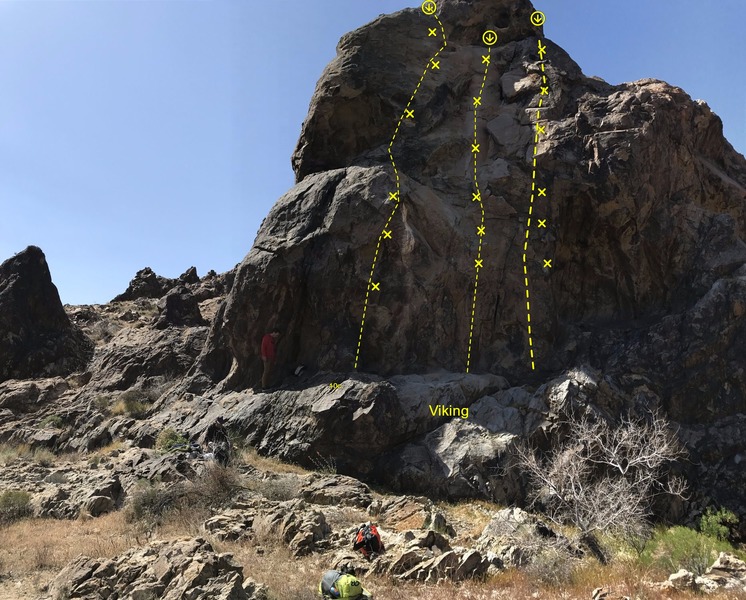 Viking Crag