El Río
International > Europe > Spain > Canary Islands > Santa Cruz de Tenerife
Description
There are more than 100 routes here, ranging from 5a to 8c, spread over many different crags. The rock is basalt, and most of the walls are vertical or overhanging. There are a variety of climbs here (lots of technical routes), with lots of side pulls, crimps, cracks, and slopers.
This area is great all year round, as you can find shade and sun on one side or the other of the canyon.
You can get more information about Tenerife climbing at the Roxtar climbing store in Villa de Arico or from the friendly folks at the climbing hostel,
Tenerife Climbing House
Roxtar
.
Getting There
Start from the small village, El Rio and take a very narrow road that is on the side of the church. The hill is quite steep, you will drive for about 2 kilometers. Drive until you see a large metal gate on your left, but DO NOT park at the entrance to the fields. You should park on the side of the road, but leave enough space for other cars to get by.

The approach to the canyon is about 15 minutes. Walk past the metal gates and cross a metal chain at the start. Follow this path down, which will eventually lead to the canyon. There will be a water reservoir on your left as you walk into the canyon.

To get to Zona Zero, take the road that leads to the TF-1 highway. Just before you leave the village, and right after passing by a greenhouse, park at a small turn out on the right, which is just before some metal storage tanks.
Routes from Left to Right
Photos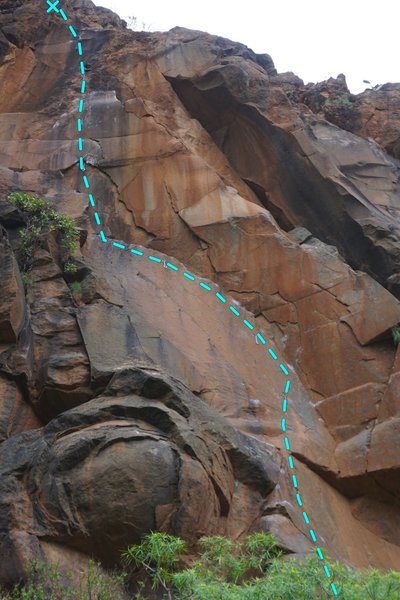 Doble Turno