M&M Hill - Crane Lake
Minnesota > Jeff's World (MN/CA b…
Description
There is a history of climbing at this cliff and evidence of fixed anchors from years gone by. All listed FA's should be considered First Known Ascents.

Memorial Day 2015, I was looking for an alternate climbing trip that would provide some solitude and adventure. At the suggestion of Jeff Engel, I ended up in Crane Lake, MN, at a cliff that seemed relatively untouched. Jeff had previously spotted some rusty button head hangers in one spot while briefly touring the area, but did not know the extent of the cliff's history.

I arrived at the cliff with 30 bolts/hangers and three days to work with them. I toured the cliff and promptly set about working. While exploring and cleaning one line in particular, I found the old hangers Jeff had spotted. Later, I would discover a spray painted number 4 at the base of one of the lines I had been cleaning masked by decades of lichen growth.

At the end of Nelson Road is Nelson's Resort, an 80+ year old fishing resort now in its third generation of family ownership. After my second long day at the cliff, I went to Nelson's for a hot meal and a cold beer. There, I would reveal who I was, my connection to the Engel family (who are summer locals in Crane Lake), and my project in the woods. Jerry, the resort owner, began telling me of a church youth group from Texas in the late 70's and early 80's that had a summer camp in nearby Orr, MN. They would water ski, camp, and drive their school bus to Nelson Road where they would climb up and down the cliff in the woods.

Locals would see multi colored helmets going up and down the rock and someone coined the name M&M Hill, as if the helmets were colorful candies floating on the cliff. Once I heard this, I knew the name of the crag was set. Any previous notions I had about naming it were out the window. History is meant to be preserved.

During my next couple of visits to the resort for food and drink breaks, I would be casually offered a job that would lead me back to Crane Lake to spend the summer developing routes by day and slinging drinks by night. That is where we stand now. Since arriving back at the resort in June 2015, routes have continued to go up weekly. Additional route developers are making brief visits to lend me a hand as they are able and a new (to us) Minnesota crag is taking shape.

M&M Hill is made from the oldest rock in the world (or so I keep being told). It is granite and gorgeous. Where the routes lack incredible heights, they make up for it in beautiful rock and movement. Every route so far has been full value, whether 30' tall or 60.

M&M Hill (located on the US side of the lake and not requiring boat access) is also your gateway to Jeff's World in Canada (also listed under Crane Lake). If you don't have a boat, you can rent one at Nelson's. As this season progresses, we are also working on a taxi service to Jeff's World, so boat rental may not be necessary in the near future. Or, bring your own boat. You can pay to dock it at Nelson's or to launch from there.

Crane Lake also has DWS opportunities that will be listed under the Crane Lake section and can be accessed by motor boat or canoe/kayak (depending on distance from launch point and your paddling ability).

______________________________________________________

Historical write up in process - updates coming sporadically.

Under development and rediscovery in 2015.

May 2015 - heavy on gnats and ticks
June 2015 - heavy on gnats, ticks, mosquitoes, and flies
July 2015 - bugs are calming, weather is cooling; climbing conditions improving!
August 2015 - bugs decreased significantly
September 2015 - perfect conditions!
October 2015 - stayed for first couple weeks. days were fantastic, nights were cool, bugs were non-existent
Getting There
Search for Nelson's Resort in Crane Lake, MN and get directions there. M&M Hill is on the east side of Nelson Road, south of Nelson's Resort.
Keep a low profile at the Hill for now by parking in the gravel pit 0.8 miles after the turn from Crane Lake Rd to Nelson Rd. Walk half a mile or so down the road to one of three License Plate Paths for quick access to the Hill.
Beta map; RED is the gravel pit - park there. BLUE is reserved parking - please do not park there. YELLOW is the crescent moon shaped M&M Hill.
The first path is marked with plate TYP-563 and leads to Willie Wall. The second path is marked with plate PND-923* and leads to the C-Section. Just before this path dumps you out into the Lower C-Section, there is another plate, (insert). If you turn right at this plate, you'll follow it to the Upper C-Section. The last trail is marked with plate 400-BAL and leads to the northern areas including The Slabs.
License Plate Path PND-923
*Please do not park on Nelson Road. It may be tempting, but it is not safe. The license plate PND-923 is from a rolled car and was attached to that tree before I ever got here. It is an annual event on Nelson Road, if not more frequent. Drivers on this road are drinking, texting, and sometimes trying to set new speed records from the statue at the corner of Crane Lake Rd and Nelson Rd to the resort. They are doing anything but paying attention to your car on the soft sandy shoulder of the road (and shoulder is generous, this is a narrow two lane dirt road).
Turn off to the gravel pit.
Photos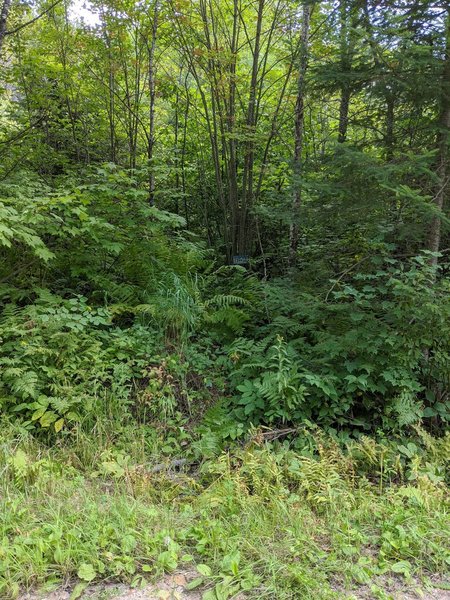 View of the license TYP563 from the road. Look really hard into the bushes in summer. This takes you to Willie wall. Trailhead GPS 48.2421833,-92.4624861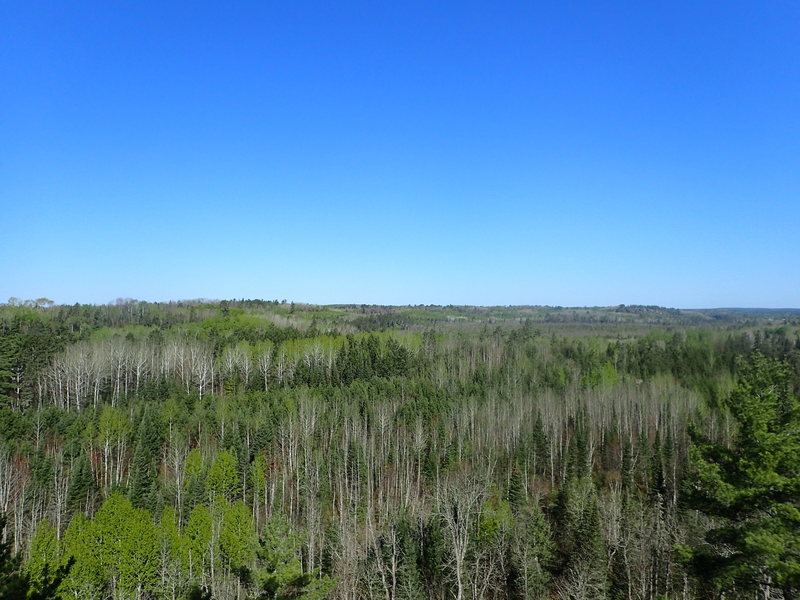 View from the top of M&M Hill