Chiba Prefecture
International > Asia > Japan
While Chiba is most known for its amazing surf beaches Nogogiriyama is one place you can climb.
This old rock quarry made of tuff is a top rope area that was developed in the 1980s. It is warm year round and a great place to take kids.
The rock is old and crumbly and top roping is the only means to climb. One route on the Rinkan face has been bolted. Since the routes are top rope routes, the pitches are fairly long. The local climbing club has placed guide ropes that you can tied your rope to so you can thread it through the anchors. The climbing club does their best to maintain the slings and clean up the area.
Nokogiriyama – the "saw-tooth mountain – in Chiba, is one of the best day-trips from Tokyo but for some reason its great hiking and wonderful views. Don't miss the hiking or the ropeway.
The lookouts here is known as Jigoku Nozoki, 'a view of hell', after the vertiginous drop.
You can also visit a genuine temple, Nihon-ji, founded in 725, and it's here that you'll find the main must-see sights. The period of the area's history as a quarry (from the 14th to the 18th century) is evident from the straight lines and flat, chiseled rock faces, and from the precise angles of the alcove inhabited by the Hyaku-shaku Kannon, a relief image of the Buddhist Goddess of Mercy carved into the rock.
You may have seen this place in the Fast and the Furious film shot in Japan or on the car show TOP GEAR where the Nissan GTR raced the bullet train.
Getting There
Bay ferry from Kurihama if you're coming from south west of Tokyo, or along Route 127 down the coast if you're driving. Take state highway 127 to the Nokogiri Ropeway entrance. You can also take the Tokyo Bay Aqua-Line, too, which offers a 'shortcut' with a view.
Google Map for entry road:
goo.gl/maps/J0jkA
Pay the toll of 1000 yen and drive another 3 three minutes.
On the left side of the road you'll see a place for about three cars to park. In the area "climbing is prohibited" but allowed.
5 minute approach. One road that takes you directly there.
The gate closes around 5 so please get back on time. You have to take the toll road. No walking or motorbike approaches allowed. No camping either.
You can come by train but you're not allowed to walk up the pay highway. Hamakanaya and Hota stations are on the JR Uchibo line.
Sidebar: The bouldering gym Green Arrow in Tsudanuma has a wall called Nokogiriyama that is a recreating of this wall.
green-arrow.jp/contents/201…
Photos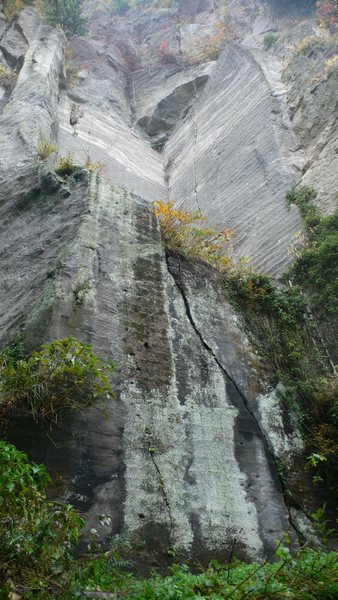 Sunshine Face wide shot.