Pungo Andongo - Pedras Negras - Black Rocks
International > Africa > Angola
Description
One of the few 'tourist' areas in Angola, Pedras Negras is also one of the best climbing areas in the country and a very unique area worldwide. Most similar to Meteora, Greece, these rock towers vary in height from 70m-200m, with a fairly solid conglomerate consisting of a sandstone matrix and a variety of cobble types. Like every area in Angola, you will probably be the only climber in the area (probably for the whole year!), but Pedras Negras is one of the few places where you will see other foreign tourists visiting. Best time to climb is in the dry season (Cacimbo), from May to September. During the wet season, the vegetation is extremely thick and thunderstorms are common.

Warning: Thunderstorms move in very fast from behind the towers, so be ready to retreat on short notice. Rain showers are usually pretty quick and we just waited them out most of the time. When walking off trail, be wary of snakes. Both Black Mamba and cobras. I have seen cobras and pythons, so it's a real concern. Make a lot of noise and carry a long stick to beat the grass well in front of your path. Baboons are common and we have found leopard prints among the towers. however, it is extremely unlikely that a leopard would attack a group of climbers. If you are traveling with a pet or kids, however, I would not let them wander off too far in this area. Hopefully that goes without saying, but just in case...
Getting There
From Luanda, take the road to Malanje, passing through N'Dalatando (km 200). After 300km, you will enter a city called Cacuso. There is a hotel here that is a decent place to stay if you don't want to camp. In Cacuso, you turn south just past the pink administration building (south side of road) in the center of town (just before the hotel on the north side of the road). Follow this road 44km to the turn East into Pedras Negras. There is a sign over the road indicating the entrance to the area. All roads are paved and in decent condition at this point. Continue on the road until you see the towers on the left (North). You will need to follow the road into the middle of the rocks to speak to the village administrator about climbing and also to find a place to camp (sometimes the administrator lets us set up camp in the school yard).
Photos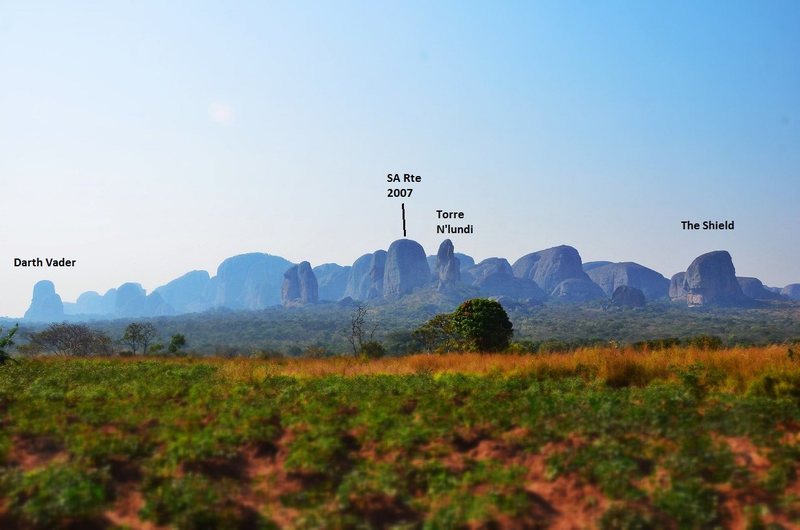 Area overview of front side towers at Pedras Negras. Photo: P. Cunha