Telluride Traverses
Colorado > Alpine Rock > San Juans > Northern San Juans
Description
The rock quality around Telluride is chossy, all different colors and qualities of sketchy rock. Protection is hard to find on most peaks; however, the rock that is vertical is generally somewhat sound and rock pro can be had. The best bet is to test everything, and to only push in and down-no pulling. When snow or ice is present, the nastiness is frozen together, which is nice.

In the summer, you can count on about an hour per peak once you have gained the skyline. The steep gendarmes can mostly be climbed over au cheval, as going around will cause you to lose the ridgeline and much elevation. Snow cornices last well into the fall generally on the north and shady side of things for water replenishment.
Getting There
To get to Section A, walk or drive up Tomboy Road from Telluride to Imogene Pass (13,114').

To get to Section B, climb Mount Emma (13,581').

To get to Section C, climb Campbell Peak (13,213') and traverse north to T.O.

A map is most necessary, the more detailed the better. Wear your helmet and scree gaiters. Many bail options exist all throughout the traverse. It is also possible to ammend the traverse in many ways, study the map and go big!
Routes from Left to Right
Photos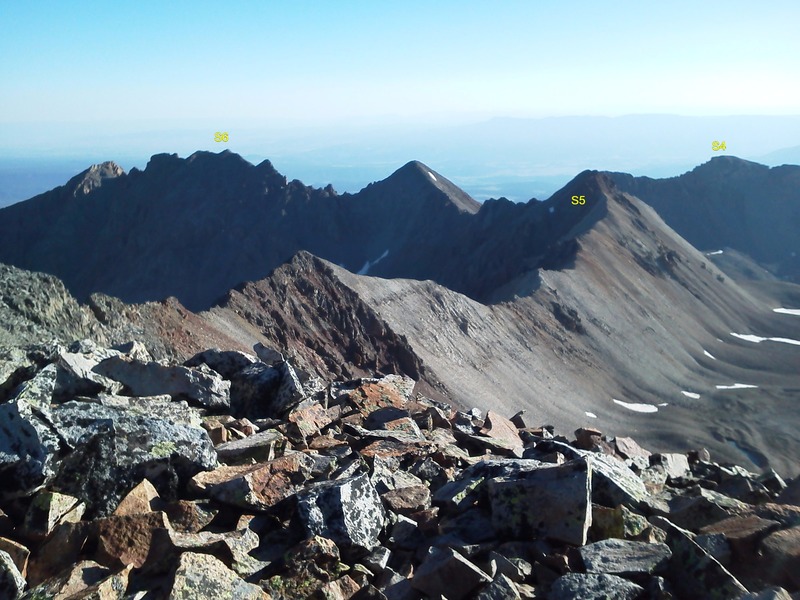 From T.O. The ridge line as its runs north and turns the corner west.