Madison River Area
Climbing
Areas in Madison River Area
Description
A few small crags along the Madison River, This area is a good winter spot as it stays fairly sunny and fairly warm. The rock quality is on the weak side, the gniess here can be fragile to say the least.

Still under development, this area has a few well traveled crags. Grades here range anywhere from 5.5 to 5.11+

This area is full of rattle snakes, ticks (in spring), and posion ivy, so keep a careful eye when approaching the crags.
Classic Climbing Routes
at Madison River Area
Mountain Project's determination of the classic, most popular, highest rated climbing routes in this area.
More Classic Climbs in Madison River Area »
Weather Averages
| | |
| --- | --- |
| High | Low |
| Precip | Days w Precip |
All Photos Within Madison River Area
Most Popular
·
Newest
·
Random
More About Madison River Area
Printer-Friendly
What's New
Guidebooks (6)
Featured Guidebook: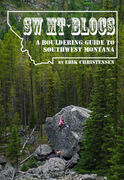 SW MT Blocs
Erik Christensen, Sick Proj…
SW MT Blocs is your guide to more than 1,000 different boulder problems all within a few hours of…