Duluth Bouldering
Climbing
Areas in Duluth Bouldering
Description
Duluth, Minnesota, is home to around 90,000 people, a small number of whom are climbers. With local climbing areas, boulders, urban ice, a public gym and three university gyms, plus a kick ass climbing shop and a number of fine pubs, Duluth is a great spot for northern living!
In addition to climbing, skiing, trail running, kayaking, surfing, mountain biking and more abound!
Within driving distance are the North Shore climbing areas, Sandstone, Taylor's Falls, Redwing, Thunderbay, Nipigon and more!

Get gear and beta at Vertical Endeavors. Get beer at Fitger's Brewhouse, Sir Ben's, or Carmody's Irish Pub. Get food at Burrito Union or Pizza Luce.
Classic Climbing Routes
at Duluth Bouldering
Mountain Project's determination of the classic, most popular, highest rated climbing routes in this area.
More Classic Climbs in Duluth Bouldering »
Weather Averages
| | |
| --- | --- |
| High | Low |
| Precip | Days w Precip |
All Photos Within Duluth Bouldering
Most Popular
·
Newest
·
Random
More About Duluth Bouldering
Printer-Friendly
What's New
Guidebooks (6)
Featured Guidebooks: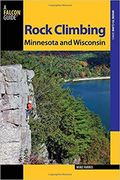 ---