Routes in Picnic Rock
10,000 Teeth

V1

5

Absolution

V5

6C

PG13
Amateur, The

V12-13

8B

Andy's Arete

V4-

6B

Andy's Dyno

V4

6B

Andy's Problem

V6-7

7A+

Back side of Lushes Lip

V0

4

Back Slapper

V8

7B

Back Slapper Traverse

V6

7A

Backpay

V4

6B

beefstick buffet

V3

6A

Betty's Pie

V5+

6C+

Budda Boulder, The

V10-11

8A

Bulldozer

V5-6

6C+

Castle Danger

V11

8A

Censored

V2

5+

Counselor Moon

V7+

7A+

Death By Stereo

V6

7A

Dr. Crack 'n Slab

V1

5

Easy Crack

V2

5+

Enter the Dragon

V3

6A

Exodus, The

V10-11

8A

Ezekiel's Prophecy

V1

5

Footies

V0

4

PG13
Foreplay

V9-

7C

General Porcupine

V3-4

6A+

IPOD Army

V3

6A

Jaws

V7

7A+

Jaws Stand

V3

6A

Jim's Exit

V3+

6A+

Juggernaut, The

V9

7C

Luke's Jaws

V7-

7A+

Lukewarm Persistance

V7

7A+

Lushes Lip Traverse

V0

4

Nic-o-rete

V2+

5+

No Mas

V7

7A+

PG13
onion left slab

V1-2

5

Onion, The

V8-

7B

Origins of Symmetry

V7

7A+

PG13
Payback

V7-

7A+

Pit Fall

V7-8

7B

PG13
Poppy Cock

V4-5

6B+

Private Porcupine

V1

5

Prow, The

V3

6A

Puffer Cheeks

V2-3

5+

Purple Rain

V2-

5+

PG13
Seamstress, The

V9-10

7C+

Smoking Man SDS, The

V10-

7C+

PG13
Smoking Man Stand Start, The

V9

7C

Sticky Icky

V6-7

7A+

Time is Running Out

V6

7A

PG13
Tombstone

V7

7A+

Tugboat

V5

6C

Umberger Helper

V4-5

6B+

Unknown Soilder

V1

5

PG13
Vag Badger

V4

6B

Veyron Arete: (Was The Turnstile Project)

V10

7C+

Warm Up Slab Shorty

V0+

4+

Watchtower

V10

7C+

Way To Blue

V0-1

4+

Woodchipper, The

V10-

7C+

PG13
Woodpecker, The

V8-

7B
Description
Minnesota's best bouldering spot is located here at the base of Sawmill Creek Dome. A very beautiful and secluded area with a high concentration of quality boulders in a relatively small area. The season here is very short, usually spring is good, and the fall is even better. You can plan on good conditions most of the time in late Sept and Oct, and if your lucky, Nov. A full day spent here will leave your finger pads extremely red and sore. The rock here looks and feels like granite, but is actually called Anorthosite. Even though development began in 2000, the tick list is continually being expanded. Potential especially lies in the double digit range.
Getting There
Coming from the Superior Hiking Trail parking lot: Hike west on County rd 6 til you get to the Superior Hiking Trail entrance on the left. Then you'll be hiking on this trail for about 2 miles until you reach the Picnic Rock fork, also called the Spur Trail. Follow this trail near the base of the dome for a few minutes, and it'll bring you to the main cluster of boulders.
Classic Climbing Routes
at Picnic Rock
Mountain Project's determination of the classic, most popular, highest rated climbing routes in this area.
More Classic Climbs in Picnic Rock »
Weather Averages
| | |
| --- | --- |
| High | Low |
| Precip | Days w Precip |
All Photos Within Picnic Rock
Most Popular
·
Newest
·
Random
More About Picnic Rock
Printer-Friendly
What's New
Guidebooks (5)
Featured Guidebooks: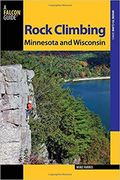 ---