Poke-O-Moonshine Main Face
Rock Climbing
Routes in Poke-O-Moonshine Main Face
Access Issue:
Peregrine closures and approach trail issues
Details
Access to the Main Face is often limited in the spring and summer due to peregrine falcon nesting. Check the DEC web site (www.dec.ny.gov, search for "peregrine route closures"). Closures are posted in the kiosk at the beginning of the approach trail in the (now closed) Poke-O Campground.

Several recent incidents at the Poke-O Moonshine Main Face have heightened tensions with neighboring landowners.

Shortcut Trail (aka the Smitty Trail): The main approach goes from the (now closed) campground to the cliff near Discord. There is a shortcut trail on the right that provides access to the cliff near Pentecostal. This shortcut trail crosses the edges of two parcels of private land, and was closed in the spring of 2014. As of Aug 30, 2014, this trail is open on a tentative basis. Stay on the trail; there are some cairns and Access Fund signage to help.

Northern Trail Closure (aka the Easy Living Trail): There is an old trail that connects US 9 with the cliff near Psalm 32. This trail is entirely on private land and should NOT be used by climbers; indeed, it has been closed and undocumented for many years. Both ends of this trail are now marked with signs courtesy of the Access Fund.

In short, while visiting the Main Face, approach from the campground, and stay on the main trail along the base of the cliff.
Description
The cliff is extremely impressive for the Adirondacks. It lords over Interstate 87 between exits 32 and 33. There have been many close calls and near miss accidents as climbers strain to see the cliff and all it offers. Most of the routes on the cliff are in the moderate to hard range; that is don't expect the wonderful selection the Gunks offers, you have to earn the climbs here. However, if you feel comfortable at these grades then this is the place to be for big, long, and exposed pitches of high quality granite. Add to this the distance it takes to get there from major cities, this cliff has a quiet feel that is pure Adirondack climbing.
And that is just the rock, don't get me started about the ice. Check out Don Mellor's guidebook Blue Lines for route descriptions.
Classic Climbing Routes
at Poke-O-Moonshine Main Face
Mountain Project's determination of the classic, most popular, highest rated climbing routes in this area.
More Classic Climbs in Poke-O-Moonshine Main Face »
Weather Averages
| | |
| --- | --- |
| High | Low |
| Precip | Days w Precip |
Photos
All Photos Within Poke-O-Moonshine Main Face
Most Popular
·
Newest
·
Random
More About Poke-O-Moonshine Main Face
Printer-Friendly
What's New
Guidebooks (10)
Featured Guidebooks: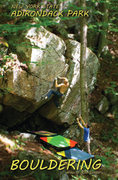 ---