The Wilds & Achin' For Booty
Rock Climbing
Routes in The Wilds & Achin' For Booty
Description
The furthest left wall at the main Sinks limestone cliff, a bit of a hike out to this area, but a good collection of great climbs awaits. The Wilds faces SW so sees morning shade and lots of afternoon sun. Classics include Earth AD (9), Candyman (10d), Sandman (10c), The Wilds (12a), Achin' for Booty (12a) and Savages (13a).
Classic Climbing Routes
at The Wilds & Achin' For Booty
Mountain Project's determination of the classic, most popular, highest rated climbing routes in this area.
More Classic Climbs in The Wilds & Achin' For Booty »
Weather Averages
| | |
| --- | --- |
| High | Low |
| Precip | Days w Precip |
All Photos Within The Wilds & Achin' For Booty
Most Popular
·
Newest
·
Random
More About The Wilds & Achin' For Booty
Printer-Friendly
What's New
Guidebooks (1)
Featured Guidebook: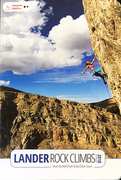 Lander Rock Climbs 2018
Steve Bechtel, Kyle Duba, B…
This is with out the best guidebook for the Lander area. The guide is 330 pages of color action s…