Fairfield Central
Rock Climbing
Routes in 2. Fairfield Central
Description
The central area at Fairfield has the highest density of quality, longer and near/past vertical lines. Classics include Born X-Eyed (5.9), Youth Culture Killed My Dog (5.9), Chainsaw Willy (10d), Have Mercy (10c), and Hellzapoppin (11d).
Getting There
The approach trail from the dirt road leads to the far right side of Fairfield Hill East, as does the approach from The Wilds of the Main Wall. Either way, hike left along the base of the slabby routes of Fairfield East, past several breaks in the cliff line, past several short TR style sections of cliffs, to an expansive section of taller cliffs (60+ feet). Hellzapoppin and several other lines are on the first longer section, followed by a shorter inset section of cliff with lines such as Have Mercy. The next longer section of cliff has the distinct left facing layback of Chainsaw Willy. You have seen 3/4 of Fairfield Central by the time you have reached this line.
Classic Climbing Routes
at Fairfield Central
Mountain Project's determination of the classic, most popular, highest rated climbing routes in this area.
More Classic Climbs in Fairfield Central »
Weather Averages
| | |
| --- | --- |
| High | Low |
| Precip | Days w Precip |
Photos
All Photos Within Fairfield Central
Most Popular
·
Newest
·
Random
More About Fairfield Central
Printer-Friendly
What's New
Guidebooks (1)
Featured Guidebook: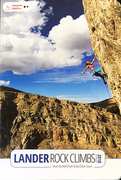 Lander Rock Climbs 2018
Steve Bechtel, Kyle Duba, B…
This is with out the best guidebook for the Lander area. The guide is 330 pages of color action s…