Puoux
Colorado > Glenwood Springs > Glenwood Canyon
Access Issue:
Private Property - Waiver Required
Details
The Puoux (and Super Puoux) is on the "Defiance Cave Preserve" and trespassing tickets are actively being issued. It is still possible to climb here with permission from the owners. Please contact the Defiance Cave Preserve to complete a waiver and schedule your visit. For more information go to
coloradowesternslopegrotto.…
Description
How about climbing on big limestone, 2 hours from Denver, with zero approach, and a South to West facing system of crags? Too good to be true? Not. Puoux can offer exactly that, but with the caveat that most of the developed climbing is just off Interstate 70. No good guide has been developed, so this is it until the FA teams get the data assembled. Separate parties with Jeff Achey, Eric Candee, Dave Pegg, Greg Purnell, and others have done the work. The limestone can be excellent to poor, depending on location, but the routes listed here will be derived from the best stone. Many of the routes start right off the ground, however, some very steep and very rad lines have been developed that require some hair-ball approach on fixed cords. Since the limestone sees little traffic, much of it is fresh and sharp - even now nothing is polished (I'll probably regret this comment). This reminds me of the upper sectors of the routes in Rifle that have all of those little scalloped spines on them.

So far, the climbing is confined to the road-side crag, called the No Name Crag (aka Puoux), with Puoux and Fault Walls seeing most development. However, development is also pushing into the higher crags on the hill and across the river in the shadowy grey limestone - time will tell how these shape up.
Getting There
Puoux is just about the easiest crag in Colorado to locate, being immediately adjacent to Interstate 70. Park in the large pull-out 300 feet East of the tunnel at Glenwood Springs. The crag by road-side is obvious. Development is spreading to the higher cliff and across the river.
Photos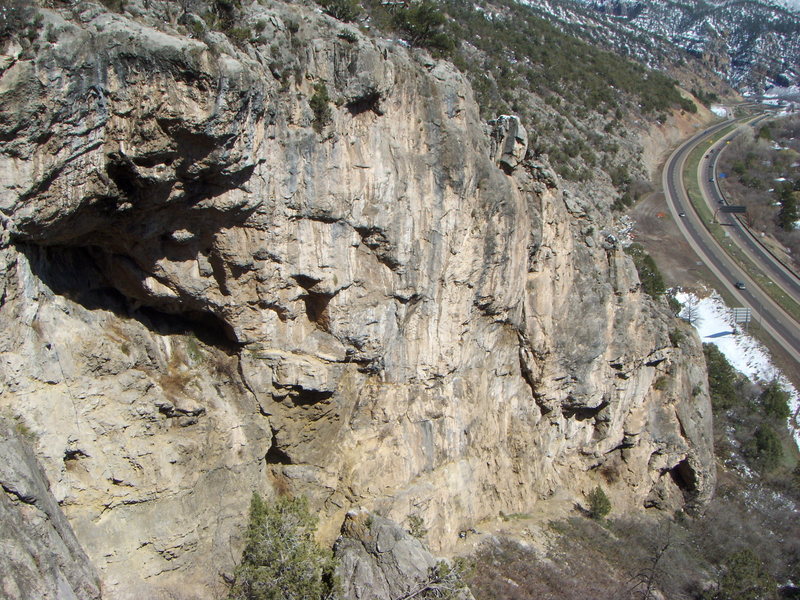 The Puoux.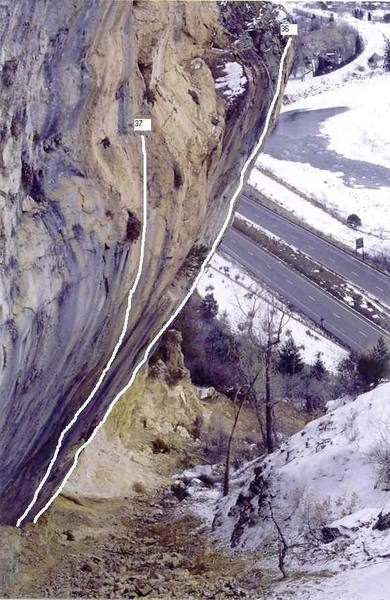 The stunning Fault Wall.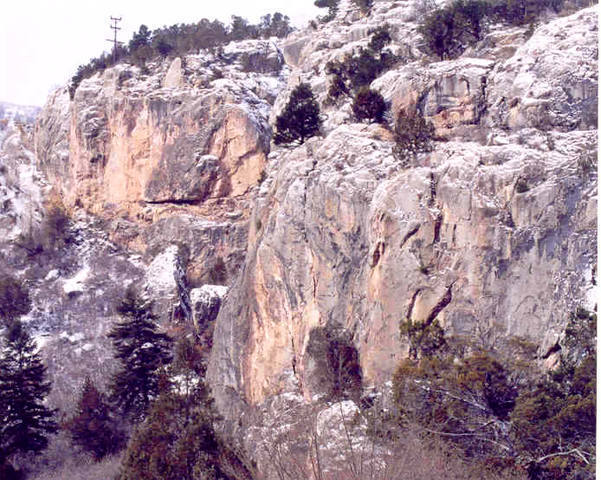 Overview of the No Name Crag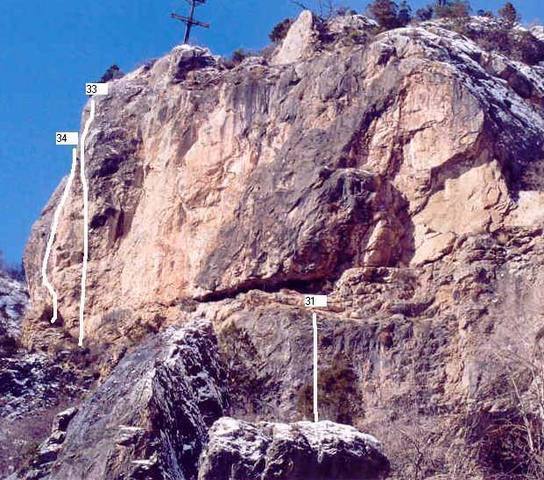 Upper left tier of Noname Crag.