Routes in Mortar Rock
[Redacted]

V8

7B

Baby Nat's

V6

7A

Bench Wall

V2

5+

R
Bench Wall Corner

V1

5

R
Bench Wall Crack

V1

5

R
Black Plague

V6-

7A

Black Shine

V4

6B

Cherries

V9-

7C

Chinese Connection

V13

8B

Don't Worry, Be Snappy

V12

8A+

Edges

V0

4

R
Egypt Air

V9

7C

Egypt Air Sit

V13

8B

Full Fever

V10+

7C+

Girls' Problem (sit), The

V5

6C

Girls' Problem (stand), The

V4

6B

Go Go Gadget

V11

8A

Hand Traverse (Warmup), The

V1

5

Impossible Traverse, The

V13

8B

Impossible Wall

V8-9

7B+

Influenza

V10

7C+

Kiwis

V12

8A+

Kraken, The

V11

8A

Left Arete

V0+

4+

Low Stans

V8-9

7B+

Lychees

V10

7C+

Mandarins

V10

7C+

Mission Impossible

V9

7C

Moonshine

V7

7A+

Nat's Traverse

V8

7B

Nats + Stan Mega Traverse

V9-10

7C+

New Wave

V9

7C

Odyssey Sit, The

V11-12

8A+

Odyssey, The

V9

7C

Outbreak

V10

7C+

Over the Bulge

V3

6A

R
Patient Zero

V10

7C+

Pipeline Traverse

V6

7A

Ramp, The

V4

6B

Red's Revenge

V2+

5+

Rimshot

V2-3

5+

Smale Frye Traverse

V8-9

7B+

Snatural

V7

7A+

Stan's Treverse

V8

7B

Stans Sunshine

V9

7C

Sun Breathing

V11

8A

Sun Plague

V6-7

7A+

Sunny Side

V6

7A

Sunshine (sit)

V5

6C

Sunshine Eliminate

V8

7B

Sunshine Elluminati

V9

7C

White Plague

V6+

7A

Yellow Thumbs

V8-

7B

Yellow Thumbs SDS

V10

7C+
Access Issue:
Covid-19 Closures!
Details
Description
A tougher area just up the hill from Indian rock. Almost all Bouldering, though some of the routes are highball enough that a top rope can be helpful.
The area is usually in the shade, helped by some large trees that hide most of the rock from Indian Rock Ave.
Descent is a simple walk off the back of the rock.
If you're up to it, Nat's Taverse (V8) is a must do.
Nat's Traverse, along with Grizzly Peak Traverse at Grizzly Peak Boulders and Gomers Pile at Cragmont Park make up what was called the Triple Crown. The real challenge was to do all three in one session, and run between them (though driving is probably acceptable these days). For extra credit do all three three times each.
Classic Climbing Routes
at Mortar Rock
Mountain Project's determination of the classic, most popular, highest rated climbing routes in this area.
More Classic Climbs in Mortar Rock »
Weather Averages
| | |
| --- | --- |
| High | Low |
| Precip | Days w Precip |
All Photos Within Mortar Rock
Most Popular
·
Newest
·
Random
More About Mortar Rock
Printer-Friendly
What's New
Guidebooks (5)
Featured Guidebook: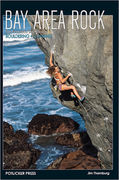 Bay Area Rock
Jim Thornburg (2015) Potlic…
The 8th edition (September 29, 2015) of Jim's annually updated book covering many climbing spots…